The Environmental Apocalypse Isn't Coming Any Time Soon
EspañolThe world is ending. We're running out of natural resources, the population is growing, and someday we won't be able to feed all those people. Genetically modified frankenfoods are causing nightmares of all sorts, and the climate change we're creating will lead to a global meltdown. Or at least that's what many want you to believe.
But not Ronald Bailey. The Reason magazine science correspondent offers a full-throated retort to these "doomsters" in his excellent new book The End of Doom, seeking to dispel a wide range of apocalyptic notions.
Much of the book follows up on arguments made by economist Julian Simon. Those who have read the the man's work will appreciate this worthwhile update to many of the points Simon made famous decades ago.
The book kicks off with a rebuttal to the doom-saying Neo-Malthusians, those who feel the planet simply cannot feed the world's current or future population. Bailey makes clear that humans are not like other creatures. When faced with food shortage, we have the ability to innovate to increase yields and feed a population well beyond some calculated "carrying capacity" for the natural environment.
Indeed, increasing agricultural activity has recently allowed many acres of farmland to be returned to nature. Bailey notes that some low-hanging fruit remain to advance agricultural intensity even further, allowing more people to be fed on less land. Moreover, population growth has slowed, and it is rather clear that we will never reach a point when there won't be enough food to feed the planet's population.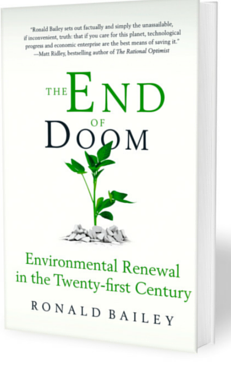 But what about natural resources? Oil, gas, minerals, and such things must run out someday. Not so, Bailey explains. The author liberally cites many mainstream scholars to show that "peak oil" is a myth that has been rather thoroughly debunked.
Humans are clearly adept at making more out of less materials. Moreover, as I've noted in the past, when resources are scarce, prices rise, and the exploitation of new supplies becomes available, one instance being the higher cost oil and gas wells that require "fracking."
Further, when prices rise, the incentive to innovate becomes greater, leading to new and more efficient use of what resources are available. Just like we are not running out food, we are clearly not running out of natural resources either.
The book moves on to a few chapters looking at other scares put forward by apocalyptic environmentalists. Political scares over carcinogens in foods and other products have largely proved to be vastly overstated. Genetically modified foods have never made a single person sick.
While global warming is real and observable, there is reason to believe humans will be able to innovate to solve the problem, just like with food constraints. Despite dire warnings, time and time again, doomsayers have been proven wrong almost every time.
Bailey's book is an excellent primer for anyone interested in environmental policy. He seeks to debunk many intuitive, popular ideas, ranging from Neo-Malthusian food or resource constraints to fears of GMO-induced agricultural apocalypse.
While the piece is generally excellent, it is certainly written for a laymen audience. This makes the book eminently readable for the genre, at the cost of adding little new scholarship to the body of knowledge.
The book is a great primer for someone new to environmental policy who would like to begin with a more sober look at the topic, rather than an over-dramatized introductory book like Rachel Carson's famed Silent Spring — a book that Bailey takes pains to rebut.
Overall, the piece is certainly worthwhile, and deserves the accolades that it has already received.
Related Posts
Leopoldo López's Sentence Is Everything Wrong with Venezuela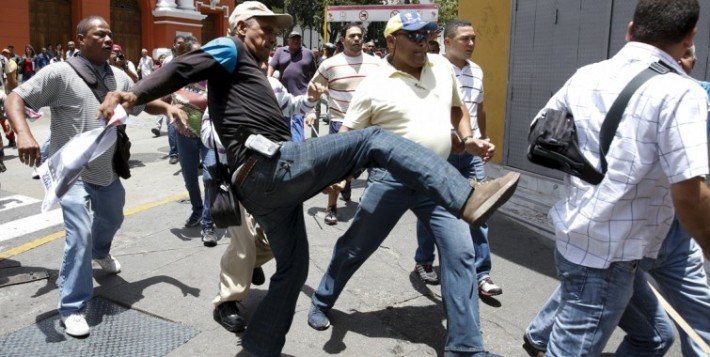 EspañolAnyone who's not Venezuelan, or hasn't lived in the country during the so-called Bolivarian Revolution, may have been surprised by the Leopoldo López conviction. But for those of us who have suffered through the last 16 years, this is what we've come to expect. September 10, 2015 will go down in history as a political "black hole." This single day exemplifies the quintessential traits of the governments of Hugo Chávez and Nicolás Maduro. On the morning of September 10, Jacqueline Faría, who is now running as a congressional candidate after serving in various positions during the Chávez administration, summoned pro-government activists to the Palace of Justice through social media. Once there, the Chavista groups assaulted Leopoldo López supporters who were waiting for his sentence announcement. Faría has repeatedly faced allegations of corruption, including during her time leading the Proyecto Guaire, a project that aimed to clean the Guaire River. The project spent US$14 billion, and yet produced no results. When she called for the demonstration via Twitter, Faría inadvertently combined the words justicia (justice) with sucia (dirty), or astucia (ruse), resulting in the Freudian slip justucia. Ironically, her clarion call even included the word "peace." https://twitter.com/JacquelinePSUV/status/642022916570353664 "Comrades, let's all go to Diego Ibarra Plaza to support the victims of the blockades and to demand #Justucia #SomosPatriaDePaz (We are a people of peace)." Horacio Blanco died from cardiac arrest at age 66 after a group of government supporters attacked him. Demonstrating their complete indifference, the Bolivarian National Guard and the National Police abandoned the scene just as the assailants arrived — thugs who we know are on the government's payroll. Let's not forget that the court convicted López of inciting a riot over Twitter. Faría's tweets are available and will continue to be in the future. Impunity can't last forever. While the attacks were going on, the government continued its moral lynching of Leopoldo López, as they've been doing for months. The state-run network Telesur routinely refers to López as corrupt (although he was not charged with corruption) and a "CIA agent" (he wasn't charged with treason either). The Twitter hashtag #LeopoldoTerroristaYAsesino (Leopoldo Terrorist and Murderer) could also be seen on every Venezuelan government account. Once again, Leopoldo has never been formerly accused of terrorism or murder. Meanwhile, Venezuelan President Nicolás Maduro and his wife, Cilia Flores, were at a religious ceremony honoring the Virgin of the Valley. [adrotate group="8"] That afternoon, the Supreme Court, which holds a perfect record of ruling in the government's favor 45,000 consecutive times, decided that the ruling from the Inter-American Court on Human Rights ordering the restoration of RCTV and the return of their seized assets was "not enforceable." Coincidentally, they issued a similar decision when the IACHR said López should be granted protective measures. That night, the interim judge that replaced the ousted María Lourdes Afiuni (who Hugo Chávez said deserved 30 years in prison), sentenced López to almost 14 years in jail. The entire process was plagued with irregularities, which included preventing López's defense from presenting witnesses. When López asked to show footage as evidence, he was told the "DVD was damaged." The sentencing hearing was, yet again, held behind closed doors. At the end of the proceeding, the judge left to "deliberate," only to come back 40 minutes later with a decision. According to Roberto Marrero, one of López's lawyers, her ruling was literally a cut-and-paste version of multiple excerpts from the prosecution's allegations. The printed version of the ruling has not been distributed and probably never will be. Even if you live across the street from the Palace of Justice, if you wanted to know what was going on during the hearing and when the sentence was being read, you had to have been following along on CNN en Español or Twitter. Venezuelan television channels and radio stations did not broadcast this event, even though it was of the utmost national and international importance. As long as the political situation remains unchanged, the government will keep Leopoldo behind bars while his children go through their early childhood and teenage years. The reaction to the news from within Venezuelan homes was utter dismay. López has become the best-known opposition leader, and enjoys an approval rate of 42 percent. On the other hand, Maduro's disapproval ratings have reached 87 percent. Following the court's decision, the lynching continued. Their pettiness of Chavista leaders was on full display as they celebrated having unjustly condemned an innocent man to 14 years in prison. https://twitter.com/EUPolitica/status/642226822432710656 "Justice always arrives! He hasn't paid yet for the deaths and wounded in the April 11, 2002 coup. His crimes have no statute of limitations.Down with impunity! There is justice, and it came at a low cost for the monster from Ramo Verde! Forty three victims who were laid to rest forever due to his fascist adventure!" No doubt the government did its homework and decided a jailed López is more convenient than a free one, at least in the short term. In the medium term, the situation reads differently. With Thursday's decision, the military-civilian alliance ruling in Venezuela, along with Maduro, its primus inter pares (if we're being generous), lost the last bit of legitimacy it had left. At the international level, the Venezuelan government has become a pariah. Following the shameful expulsion of Colombians from the country, and now this sentence against López, they may still maintain some convenient diplomatic relations, but the situation is akin to South Africa under apartheid, or Alberto Fujimori's Peru after the election fraud in 2000. The sentence that Judge Barreiros copy-pasted and signed won't take away from Leopoldo's status as a prisoner of conscience. The international community agrees, including the UN Working Group on Arbitrary Detentions, the Inter-American Court on Human Rights, the European Parliament, Human Rights Watch, Amnesty International, and the South African Archbishop Desmond Tutu, who led the struggle for equality in his country. However, while it is the Venezuelan people who "will remove the handcuffs," as Leopoldo says, there is a long journey yet ahead. The government knows that losing power implies much more than simply giving it up, and they are raising the stakes. Like scorpions, they'll strike even if it means their own death. Translated by Adam Dubove.