Where Are Migrants Flocking to in South America?
South America is receiving an elevated immigration flow, according to a new statistical report published by the Population Division of the United Nations Department of Economic and Social Affairs. The immigrant population in the region rose by 23 percent between 1990 and 2013, from 4.24 million to 5.23 million, which overshadowed stagnant immigration in Central America and the Caribbean.
Ecuador has shown the most rapid and positive inflow, with a 357 percent increase. From 78,700 in 1990, the number of immigrants reached a new record of 359,300 in 2013. Similarly, the number of immigrants in both Chile and Guyana has almost quadrupled, from 107,500 to 398,300 and 4,100 to 14,800, respectively.


The remaining nations in the top five, in terms of percentage growth, are Bolivia and Suriname — although the British territory of the Falkland Islands comes in between the two with a 139 percent or 1,200-person increase.
Brazil and Uruguay were the only two South-American nations to see a decline, and both by a substantial magnitude of 25 percent. That pattern held true for the past 13 years as well, wherein Brazil lost 12 percent of its immigrant population and Uruguay lost 17 percent. All other South-American nations still saw population increases.
Latin America and the Caribbean combined are home to 8.6 million immigrants, up from 7.1 million in 1990. However, that figure remains almost incomparable to the 53.1 million immigrants currently residing in North America. That is the case even though South America alone, not including Central America and the Caribbean, has a total population greater than North America. (The UN measurement classifies Mexico as Central-American.)


The UN report also points out that worldwide the number of people living outside their home countries, 3.2 percent, has never been higher. This year the figure reached 232 million, up from 175 million in the year 2000. Of the current migrant population, those living in developed countries amount to 136 million, while those living in developing countries total 96 million.
John Wilmoth, director of the Population Division, said that profound changes are taking place. There are now countries which are simultaneously sources, destinations, and transit zones for immigrants. He also noted that migrants born in Latin America and the Caribbean represent the second largest diaspora, behind only those from Asia. The Latin-Americans live mostly in North America, especially in the United States.
The United States, with 46 million immigrants, is also the world's most popular destination in absolute terms. It is the country of choice for 26 million Latin-American immigrants — including 13 million Mexicans — more than two million Chinese, two million Indians, and two million Filipinos.
Half of the world's migrant population then live in just ten countries. After the US, we have Russia, with 11 million; Germany, with 9.8 million; Saudi Arabia, with 9 million; the United Arab Emirates and the United Kingdom, with 7.8 million each; France, with 7.4 million; Canada, with 7.3 million; and Australia and Spain, with 6.5 million each.
Wu Hongbo, under secretary general in the United Nations Department of Economic and Social Affairs, considers that properly-regulated immigration could further social and economic development in source and destination countries alike, as he deems it "an essential means to increase access to resources and reduce poverty."
Related Posts
Demilitarization, Not Remilitarization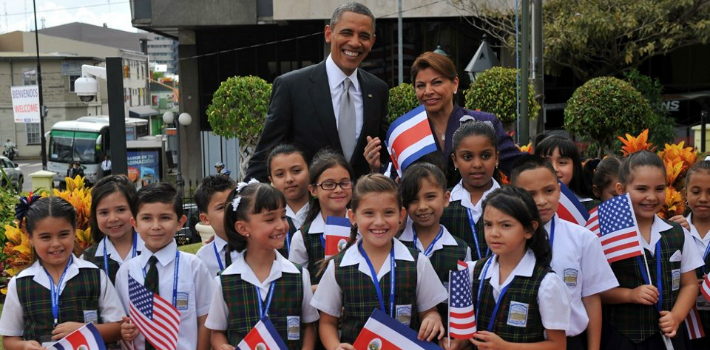 "Those who cannot remember the past are condemned to repeat it." Since George Santayana first wrote those now clichéd words in 1905, they have rung true time and time again and remained relevant in modern society. As the United States — and the world — ponders the ramifications of embarking on yet another major operation into another nation's affairs, this time in Syria, it provides an opportunity to step back and dissect the role of military. That is, the merits of even having a military. Where history has not often repeated itself is in demilitarization. Rhetoric and prevailing wisdom have long told us that militaries are necessary for legitimacy in the international community. However, time has shown this, in many respects, not to be true. Costa Rica, located in an area of the world normally seen as behind in many aspects, has exemplified – but has yet to be followed in the first world – that demilitarization is not a dirty word. Costa Rica has not had a military since 1948. After a short but bloody forty-four day civil conflict, following disputed national elections that year, opposition leader and victor Jose Figueres declared that the Costa Rican army as it stood was no more. Though Costa Rica did not, and continues not to have, a history of violence, one of the prevailing factors in the military's disbandment was to avoid future conflicts, a novel concept today. An even larger factor in the decision was a transition to investing in its citizens domestically, rather than spending foolishly internationally. With former army barracks turned into museums and 10,000 new roles available in the police, a refocused government placed emphasis on investments in health care, education, and social programs. The returns speak for themselves. Costa Rica saw the middle class increase from 10 percent of the population to 30 percent within 25 years. It saw its literacy rate grow to 96 percent, which ranks 48th in the world — remarkable given that its Central-American cousins, Nicaragua and Guatemala, rank 110th and 118th, respectively. While funding all of its public universities and public hospitals, in addition to providing all of its residents with the benefits of social security coverage, Costa Rica's reallocation of assets has been an overall success. While complete military disbandment might not be viable for many larger countries, the model set by Costa Rica has high value. Priority for governments should be on reinvestment at home before entertaining thoughts of multiple-front investments abroad. To the Other Extreme With this insight in mind, the Syria question opens a door to an unlimited amount of "what-ifs." Hearing President Obama speak of a necessary military response to President Assad's alleged use of chemical weapons rubs salt into the still fresh financial wound of other expensive military conquests in recent years. US spending on wars in Iraq, Pakistan, and Afghanistan have topped US$4 trillion — US$12,600 for every man, woman, and child in the country. By comparison, worldwide military expenditures in 2011 alone reached almost $2.2 trillion. In 2012, a year when US global military expenditures actually dropped slightly, the United States still accounted for nearly 40 percent of all military expenditures on the globe. Could education in the United States have benefited from some of that allotment? With that type of extravagant spending, the role of the military certainly warrants consideration. There are evolving opinions about a military's worth (and some of those are well displayed here) with many reverting back to its historical purpose: to defend the nation's borders against invasion and external attack. You can argue among yourselves whether Iraq, Libya, and now Syria posed or pose threats of attack on US soil. What you cannot argue is the inconsistency with which The United States has chosen to involve itself — or not — recently in the affairs of other nations. While comparing Costa Rica to the United States pits one extreme against the other, there is an evolving middle ground that is trending the way of higher internal investment. Brazil, which has an army, has renounced a common next step in a military's evolution: equipping itself with nuclear weapons. As author of What if Latin America ruled the world?, Oscar Guardiola-Rivera argues that not having an army — or having one that is more domestically focused — does not undermine a nation's standing in the region. In fact, he argues it makes the nation more respected. [Brazil's] standing hasn't been diminished because of its position on nuclear militarization. In fact, because of its position it has gained clout and is seen as a trustworthy actor and negotiator. The same goes for Costa Rica. . . . Costa Rica and Brazil, in their different ways, have shown themselves and to the world that actually acting with such maturity makes them more respectable. Nor does not having an army leave a country defenseless. Costa Rica, in 2011, spent nearly $300 million on a police force armed with military-grade weaponry. Furthermore, its defense budget has recently grown to be more than three times larger than Nicaragua, which is no coincidence in light of their recent border disputes. Costa Rica isn't often referred to as an example in the international community. However, with continuing trends towards increased and seemingly insatiable international military involvement — and thus spending — on the part of the United States, perhaps a model set by a small Central-American nation can offer a precedent for pragmatic thinking and domestic stability.