"Gender Crime" Opens the Door for Misuse of the Law
I had an interesting Twitter exchange with a couple of reporters from Puerto Rico recently, regarding the use of the term "gender crime" to discuss domestic violence. The "twigurment" (what I call an argument on Twitter) started with a story about a person being charged with a crime for assault and ended with a discussion about Latin male "machismo."
While it is true that Latin men have a tradition of "machismo," isn't the use of that statement to paint all men as abusers sexist?
There are plenty of articles out there about women who are tired of being labeled — especially Hispanic women who feel they have been typecast in ways that are simply unfair. Yet, no one seems to mind using the same kinds of sexist labels against men. In fact, at least in the eyes of some of my colleagues, there are laws written and enforced based on those gender stereotypes.
It is probably important that we acknowledge the impact and toll of domestic violence. It is a crime that for many years was considered almost an exclusively male-on-female act of violence. Many women have suffered and some have died at the hands of their lovers. It is a crime that should be prosecuted.
However, recent years have seen an increase in the number of cases of women abusing men, or gay lovers, both male and female, abusing their partners. That has led to more arrests of women for the crime. There are even surveys that indicate that men are just as likely to be victims of domestic violence as women.
When it comes to women striking or attacking men, though, the question that I hear women most often ask is, "well, what did he do?" As if a man's actions justify a woman striking him. This is important, because equality under law requires that we reverse the equation to verify whether or not it is true. If a man strikes or attacks his wife or female partner, does it matter what she has done?
No. It should not matter, nor should it matter what the man has done, unless the violence is an immediate act of self-defense.
Domestic violence laws also have another "gender crime" that makes almost no sense but is included in nearly every state's statutes: psychological "violence." The definition from Puerto Rico's laws (searchable here), which may be used as the basis for a criminal complaint, include things that on the surface appear to be done by women against men all of the time:
psychological abuse' means a constant pattern of conduct to dishonor, discredit, or scorn personal worth, unreasonably limit access to common property, blackmail, isolate, deprive access to adequate food or rest, threaten deprivation of custody of sons or daughters, or destroy objects held in esteem by the person, except those that privately belong to the offender . . .
While it may be sexist of me to say so, women have an innate ability to "dishonor, discredit or scorn the personal worth" of men, and sometimes they can do it with a smile. In addition, I've heard of far more women who threaten to "take the kids" than men. The definition above — which is essentially based on personal perception, when a person "believes" he or she has been verbally abused — creates such a wide open field of opportunity for misuse of the law that one wonders why it was ever included.
Abuse of the law is the real crux of the issue. Coffee break discussions abound of men saying how their ex-wives used domestic violence laws in order to give themselves a leg up in divorce proceedings. Unless you happen to believe that a woman should go to jail and lose her home and her children for slapping her husband or insulting him during an argument — when he may or may not have deserved it — then you must agree these laws need to be changed.
Politicians, those who wrote these laws, pandered to female voters by stoking the flames of feelings about domestic abuse. It is time to have a real discussion about where government can or should tread. Does every argument between a man and a wife really require the intervention of the state? Can we truly sustain a law that paints one sex as perpetual victims and one as perpetual abusers?
Should we? No.
The state should only intervene when lives are truly in danger or when serious harm has been inflicted or threatened. It should only take action when one partner — male or female, gay or straight — needs assistance to leave the residence for his or her own safety, receive medical treatment, or prosecute the violent abusers. No one should be jailed or threatened with jail or loss of their children due to verbal abuse.
We must leave the greatest power in the hands of those who need it the most. That is to say, people should have the power to leave, to walk out the door, and to find another partner who respects and loves them. We should never have laws on the books that are based on personal perception and or gender stereotyping.
Related Posts
The Unwinnable War: Costa Rica's Drug Trafficking Conundrum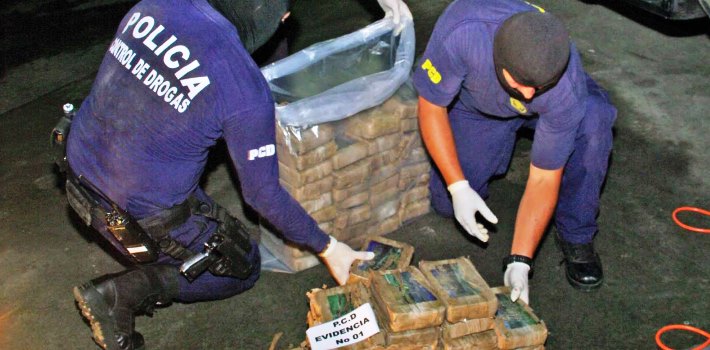 EspañolOn October 10, 2010, a small Piper Navajo airplane crashed in a riverbank soon after taking-off from Tobian Bolaños airport, located just outside Costa Rica's capital, San Jose. While the death of one of the two passengers on board was notable, the big news was the cause of the crash: the plane's wings were too heavy due to excess weight. The crash was nothing more than a footnote elsewhere in the never-ending war on drugs. In Costa Rica, though, it made major headlines. The commandeering of the plane — and its contents of illegal substances — personified the much bigger transition in the nature of Costa Rica's role in the American continent's drug trafficking market: Costa Rica is no longer simply a bridge to transport illegal drugs; it is now also an operating zone. Costa Rica has traditionally been used as the meeting point between the two most prominent drug cartel homes on the continent, Colombia and Mexico. With the collapse of many Colombian cartels, a paradigm shift resulted in the restructuring of the region's drug trafficking organizations. Starting around the turn of the millennium, Mexican rings surged to be the dominant presence in Central America. With the surge, Costa Rica started becoming established as both a warehouse and trading center. More recently, there have been noticeable increases in suspected processing sites and discoveries of drugs by Costa Rican law enforcement. Between 2006 and 2009, Costa Rican police seized over 90 tons of cocaine, and more than 40 tons have been seized thus far in President Laura Chinchilla's administration. So far in 2013, that number is 15 tons. And it's not just cocaine. In a bust last August, police found over US$200,000 worth of ecstasy. In addition, examples in the last month include the seizing of US$50,000 and heavy weaponry on a site near Irazú volcano and the discovery of a suspected cocaine-processing lab — equipped with four helicopter pads — in Costa Rica's Limón province, along with a similar lab near San Carlos with a rocket launcher and more helipads. The recent increase in drug confiscation and processing site discoveries is due in part to a refocused effort by the current administration to crack down on, and catch-up to, the advance of cartels operating inside their borders. The question that the country must now face is whether or not to continue down the path they've always been on in a war that many, including my PanAm colleague Carlos Sabino, characterize as unwinnable. Costa Rica as a nation has for a long time taken a firm, though often inconsistent, line against drug trafficking. Through her tenure as president, Laura Chinchilla has also taken the politically popular stance of fighting against the cartels. That won't stop now with her tenure almost at its end, and her seeking last-minute strategies to boost her regionally low approval ratings. But like the nation's hit-and-miss success rate, Chinchilla's stance itself is not without controversy. Earlier this year she twice used the private jet of Gabriel Morales Fallon — who was under investigation by Costa Rican intelligence officials for possible ties to drug trafficking. The first instance, in March, was to attend the funeral of Hugo Chávez. The second was in May for a personal trip to Peru. Further to the point of a hard stance, Costa Rica has harsher punishment (8-20 years) for drug trafficking than it does for murder (12-18 years). A national newspaper, La Nación, also reported in October of this year that 80 percent of arrests in Costa Rica are related to drug trafficking — and those arrests are on the rise. However, the nature of those 80 percent of arrests is largely unknown, and very few arrests have been reported in the recent raids. Assistant Director Gustavo Mata of Costa Rica's top police force, the OIJ, explains that the mountainous terrain where the cells have been operating makes arrests extremely difficult. He expanded on the broader topic by stating that Costa Rica may need to request help from allies to tackle the well-armed criminal organizations because "the strategy we've been using isn't working." Which emphasizes the real problem. Strategies currently in place — and the severe legal punishments that accompany them — may be successful on smaller, individual cases. What they seemingly aren't, however, is effective as deterrents against the operations of big, combative organizations. With the manner in which cartels are using Costa Rica changing, another important decision is looming to determine the merits of engaging. Smaller victories are good for morale and political poll numbers. In the broader, practical picture, though, they aren't much more than a ripple in the water. Elections are set for February 2, 2014, and that strategic decision will be with the new president. The one he chooses will be important to monitor in what is increasingly being labeled the world's unwinnable war.