Mexican NGOs Warn Peña Nieto's PR Spending Is "Out of Control"
EspañolWhen it comes to spending on public relations, the administration of Mexican President Enrique Peña Nieto is breaking records.
According to a report published on August 26 by watchdog NGOs Article 19 and Fundar Center for Analysis and Research, Peña Nieto spent an unprecedented MEX$14.6 billion on official government advertising in just his first two years in office, vastly exceeding the allotted budget.
"These excesses have become constant, and this reflects an absence of planning, a lack of control, and zero oversight," the report states.
The six-chapter document analyzes and evaluates the Mexican government's spending on advertising, both at the state and federal level, as well as its effectiveness.
Excessive Spending
The report finds that in 2013, the federal government exceeded its advertising budget of MEX$5.5 billion by 48.8 percent.
As part of the Alliance for Open Government, Mexico's Ministry of Public Administration has reported the federal government's monthly expenses on official advertising since 2012. The data includes items such as the budget line used, the contract type, the name of the ad agency, and the acquisition date, among other details.
[adrotate group="8″]
Although the Social Communication Spending System (COMSOC) releases all the information recorded by state agencies within 10 calendar days following the end of each month, the report claims the system suffers from significant delays.
While preliminary figures showed $4.5 billion spent on official advertising in 2013, the report demonstrates that the Mexican federal government actually spent $7.6 billion — a difference of 69.7 percent.
When compared to the total advertising expenditures in the first years of previous administrations, Peña Nieto spent 35 percent more than Felipe Calderón in 2007, and more than double what Vicente Fox spent in 2001. The report notes that even when accounting for inflation, Peña Nieto's spending still surpassed that of his predecessors.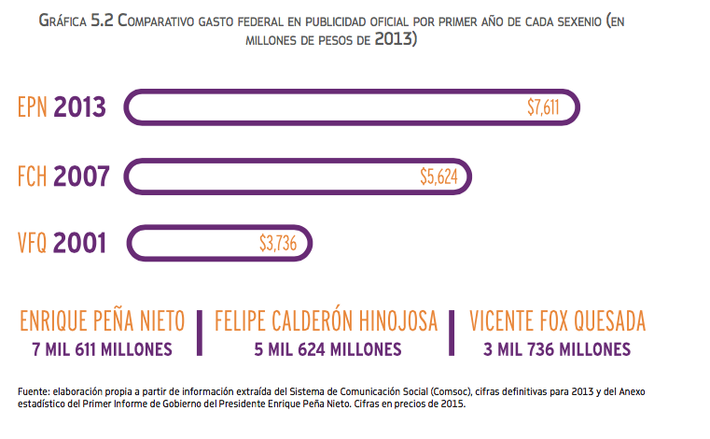 In 2014, the Mexican federal government once again exceeded its advertising budget, this time spending 26 percent more than the allotted $5.2 billion. Preliminary figures in this case showed $3.5 billion in official advertising, but the final tally came in at $7 billion.
The report notes that the federal government allocated most of its funds to television advertising (30 percent) in 2014. The remaining funds went to communication-service providers (25 percent), radio stations (20 percent), print media (17 percent), webcasting (5 percent), and cinema (2 percent).
As for the media companies that provided the government's adverts, Grupo Televisa led the pack, taking in 17.30 percent of the state's spending, followed by Azteca Studios (7.93 percent), Estudios Churubusco (3.6 percent), Formula Group (3.25 percent), and the Mexican Editorial Organization (3.16 percent).
Of the 27 federal entities that released information on their original advertising budget and real expenses, 15 spent more than budgeted in 2013. Nine entities spent less than budgeted, while only three reported spending the same amount they originally had approved.
Overall, the 15 entities that surpassed their original budgets did so by 1.4 percent, or $1.6 billion more than the initial budget. Seven entities, however, spent more than twice their budgets (Chihuahua, Morelos, Campeche, Yucatán, Mexico City, Zacatecas, and Colima).
NGOs Call for Regulation
During a presentation of their report in Durango, México, Article 19 and Fundar called for the Mexican Congress to pass legislation establishing clear, objective, and transparent criteria to regulate government advertising.
Ana Cristina Ruelas, with Article 19's Access to Information Program, warned that unless the legal framework is changed, freedom of expression will remain under threat in the country.
Joel Salas, commissioner of the National Institute of Transparency and Access to Information (INAI), said that once reforms are enacted in May 2016, the destination of all public resources shall be reported without exception.
Related Posts
Guatemala's Pérez Molina Steps Down, Appears before Judge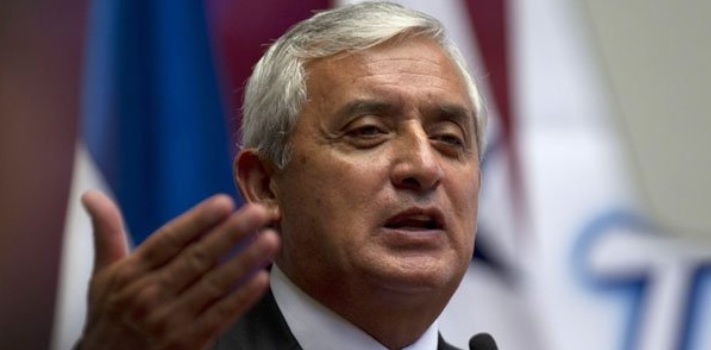 EspañolGuatemalan President Otto Pérez Molina resigned from office just hours after a judge issued a warrant for his arrest late Wednesday evening, according to the president's spokesman, Jorge Ortega. "Given the current situation, and above all taking into consideration the interest of the state, I am obliged to continue with due process and therefore present myself before the justice system and settle my personal situation," the president said in a letter to Congress. On Tuesday, Congress stripped Pérez Molina of his immunity, allowing prosecutors to move forward with charges related to a customs-fraud scheme known as "La Línea" (the Line). Authorities have previously arrested former Vice President Roxana Baldetti, who resigned her post in May when allegations first surfaced. Current Vice President Alejandro Maldonado will take over as president until January 14, 2016, when Pérez Molina's presidential term would have expired. Presidential elections in Guatemala are scheduled for September 6. [adrotate group="8"] On Thursday, Pérez Molina appeared in court to respond to his arrest warrant and answer the charges of his alleged involvement in criminal activity. The judge is expected to soon determine whether the president is held in custody or remain free pending his trial. After the news of Pérez Molina's resignation spread throughout the country, thousands of Guatemalans gathered in the capital's main plaza to celebrate the decision with fireworks, songs, and chants. Sources: El Periódico de Guatemala, BBC.