Oliver Stone Doubles Down on Support for Chavista Regime
Academy Award-winning filmmaker Oliver Stone has made no secret of his sympathies for Latin-American, populist heads of state such as Hugo Chávez and Fidel Castro — notably in South of the Border (2009). However, given staunch opposition to US foreign interventionism, he still received an invitation from the Future of Freedom Foundation to speak in a panel at the 2014 International Students for Liberty Conference.
The scheduling of this appearance, which went ahead as planned at 1 p.m. EST on Saturday, raised many eyebrows. Students for Liberty leaders from Latin America (EsLibertad), for example, wrote an open letter, calling on Stone to apply his same criticisms of authoritarianism to countries such as Venezuela and Cuba. They also called attention to the dire economic state of these nations and the hardship that compels so many people to leave for a stable future.
In front of an audience of approximately 300 — out of 1,600 conference participants — one EsLibertad executive board member, Luis Eduardo Barrueto of Guatemala, then had the opportunity to question Stone directly. His colleague, Antonella Marty, handed Stone a physical copy of the letter, as he said: "You are criticizing the overreach and the abuse of power and tyranny [of] your own government. Why and how do you draw the line in supporting other governments that do precisely that in other regions of the world, specifically those aligned with Socialism of the 21st Century?" (MP3, 7 minutes)
While there may have been some hope that Stone would temper his support for these regimes, particularly given censorship and police state violence in Venezuela over the past week, that was not to be. Rather, "Obviously, I don't agree with you," he said, and he upped his support for Venezuela's rulers in particular.
South America has undergone a sea change away from being the US backyard to where it is actually independent, increasingly so. . . . You mentioned Venezuela. I am fine with all the political opposition to Chávez, as long as it's done legally; there is a method by which you can protest — but now, the opposition is increasingly behaving like the Republican Party here in the United States, where is it is trying to block, criticize, destroy any attempt at negotiation or trying to do business and get on with it. . . .

The recent manifestations in Venezuela, of the students . . . it seems to be reaching a new kind of violence . . . There seems to be a desire to reach out, to kill, to create disturbances in the street protests; students go down, and one has to believe that something is behind it . . . but if the chaos descends, then it will look terrible, because the western media has been so against Chávez, and Ecuador, and Bolivia.
Frustrated with Stone's response, which continued and went into detail, Barrueto sought to interrupt and correct him: "That is captivated by the Venezuelan government. It's actually not true what you are saying." However, Shelby Coffey sought to move the dialogue on to the next question.
Barrueto did, however, offer an interview with the PanAm Post, accompanied by Marty. His concern, he said, was the tacit support for the very violence he condemns when it comes from the United States.
Three people killed, 22 people hurt — just two days ago in the protests in Venezuela — and countless detentions are really not explained by the theory he seemed to be giving . . . He basically has been captivated by the discourse that a lot of these governments have, and they have had so much strength in the region, because the speech sounds really nice.
A fellow attendee and student from the University of Francisco Marroquín in Guatemala, Elfego Solares also signed on as a supporter of the letter. He acknowledges that it created a variety of reactions, but he believes some people experienced a paradigm shift and that Stone's response undermined his credibility.
"[Stone] had the audacity to make it seem like we were exaggerating the reality that is lived in Latin America," Elfego says. "Clearly, we did not even start to depict the horrors and effects of the regimes in our countries."
Related Posts
Venezuela: Hiding Opposition Leader to Surrender to Authorities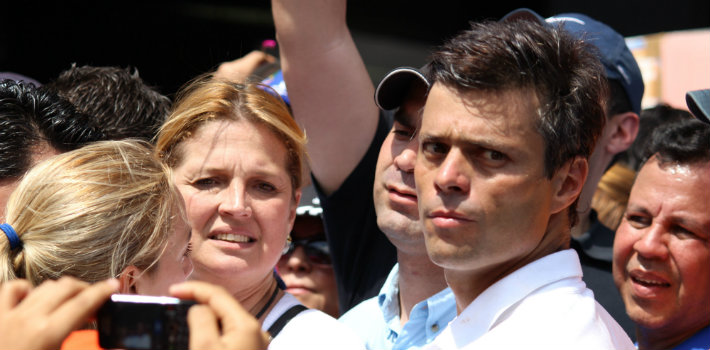 EspañolLeopoldo López, former mayor of Chacao and leader of the Popular Will Party (Voluntad Popular), whose arrest was personally ordered by Venezuelan President Nicolás Maduro last Thursday, announced today that he will surrender to the authorities on Tuesday, February 18. [embed]http://youtu.be/vCmoGxEnEJc[/embed] López made his announcement through a video sent to media outlets via Twitter on Sunday evening. The video shows the young Venezuelan leader speaking from an undisclosed location, and it was carefully edited to avoid any possible detection of his whereabouts. The Venezuelan government has accused López of inciting violence and destruction of property after a peaceful demonstration led by him. The event consisted mostly of university students from all over Venezuela and was followed by violent confrontation with police and the government's armed civilian militias. That led to three deaths, including two students and one Chavista vigilante. Despite multiple photos and videos showing police and militias firing live ammunition at the students, the government has been keen to show that López's followers provoked the violence. López, who prior to the demonstrations stressed to his followers the need for discipline and nonviolence, denies the charges and points out that "The government has the monopoly on weapons." A scion of one of Venezuela's most prominent families and a direct descendant of Simon Bolívar's sister, López stated that he "has broken no laws and should have nothing to fear." "Maduro," López said over the weekend, "I'm telling you, you are a coward. You will not make me nor my family surrender. To my family [pictured]: be strong, I love you." https://twitter.com/leopoldolopez/status/434921296820850688 The Human Rights Foundation also "strongly rejects the arrest warrant hurriedly issued [on Thursday] against . . . Leopoldo López on charges of 'murder' and 'terrorism' linked to the deadly protests, as it is not an indication of good will and impartiality in the government investigation and instead threatens to escalate the violence." Both Maduro and his predecessor, Hugo Chávez, have in the past perceived López as a dangerous opponent, and this has led to legal battles. López was mayor of Chacao from 2000 to 2008 and received an award from Transparency International for his performance. However, three years ago — as López sought the opposition candidacy for president — corruption charges brought against him earlier by the government precluded his candidacy on legal grounds. He took his case to the Inter-American Court of Human Rights, and in 2011 won. The court ruled that Venezuela's government would have to reestablish López's political rights. However, even though the National Electoral Council accepted this order, Venezuela's Supreme Court of Justice declared that the ruling was "non-executable." The court clarified that his ban was not political, but administrative, so he could then be elected, but not manage state resources. In the video, López invites people to join him for a march on Tuesday to the Attorney General Office. The primary demands will be: an investigation of last Wednesday's events, the immediate release of all detained students from recent demonstrations, an end of the persecution and repression to those who protest, and the disarmament of government vigilantes or guerrillas. "I'll invite you to march up to a certain point, and from there," he says, "I'll walk alone and submit these petitions. I don't want the life and security of any compatriot to be at risk. Today, more than ever, let's take on the future that belongs to us. We are on the right side of history."