700 Cuban Refugees Storm the Nicaraguan Border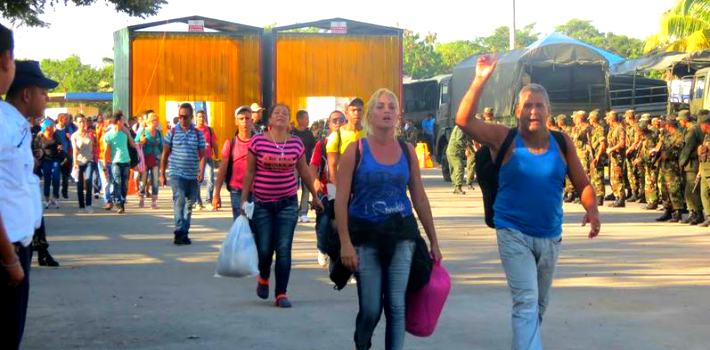 EspañolOn their long journey to reach US soil departing from Ecuador, Cuban migrants must overcome many obstacles, including the Castro regime's allies.
On Sunday, November 15, the Nicaraguan government deployed the military and police and ordered them to close down the border, preventing nearly 1,000 Cubans from continuing their travels. The migrants had entered Costa Rica the day before using special transit visas.
Despite the Nicaraguan government's best efforts, around 700 Cubans still managed to cross the border. However, nine kilometers into Nicaraguan territory, the group of migrants clashed with a small battalion of Nicaraguan security forces in anti-riot gear, who then expelled them from the country.
Cuban migrant Évora Benítez told Costa Rican daily La Nación that the Nicaraguan forces "started shooting in the air to frighten us. Then they started throwing tear gas canisters everywhere, without thinking of the pregnant women and children, like my 22-month-old daughter Julia."
Currently, the border between Nicaragua and Costa Rica remains open for tourists and trade, but approximately 1,100 migrants remain stuck at the border in Peñas Blancas, according to the Costa Rican Foreign Ministry.
The Costa Rican government has set up a nearby facility to shelter the Cuban exiles. In a joint effort with the International Committee of the Red Cross and the United Nations, they have also provided them with medical assistance and food.
Nicaraguan Congresswoman Silvia Nadine, of the opposition Sandinista Renewal Movement (MRS), tells the PanAm Post that, in August, Nicaraguan police detained five Cubans traveling north and deported them back to the communist island. However, "this is the first time that the military has been put in charge of stopping migrants," she says.
Diplomatic Quarrel
In a press release, the Nicaraguan government blamed Costa Rica for causing a "grave humanitarian crisis" in Central America by awarding transit visas to "thousands" of Cuban migrants.
[adrotate group="8″]
"We emphatically denounce the government of Costa Rica for breaching our national sovereignty, and for failing to fulfill its obligations as a state … to respect the borders, and the rights of those who go through the border, amid this era of intense human mobilization," the release stated.
Costa Rican Minister of Foreign Affairs Manuel González replied that it was "unfortunate" how the Nicaraguan government used hundreds of Cubans for political purposes.
According to González, Nicaraguan President Daniel Ortega used "an army with machine guns" to stop the migrants who had evaded border controls.
"It's not a favor they are doing to Costa Rica; it's complying with an obligation. The rights of over 1,000 have been affected, because [Nicaragua] has addressed this as a bilateral issue between the two countries," González told local reporters. "This deserves the condemnation of the international community."
Congressman Nadine tells the PanAm Post that the strained relationship between the neighboring countries stems from "the large number of Nicaraguan migrants living in Costa Rica." She called for a dialogue among other Central America countries to reach a common migration policy in the wake of the humanitarian crisis. "In the meantime, we should at least provide shelter and water at the border."
Castro's Hand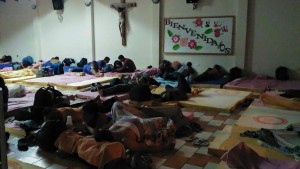 Ana Olema is a Cuban artist and activist who lives in Miami. Two years ago, she made the same journey across eight countries to reach the United States.
"It was pretty hard, because I was thinking of turning myself in. That was the idea, and we encountered the [Nicaraguan] army, but they were the ones who attacked us," she tells the PanAm Post. "They stole our stuff, touched me, and pointed a gun at us."
"We were strong. They wanted me to kneel, but I refused," she says.
As for the relationship between the Cuban and Nicaraguan governments, Olema says she believes the repression that took place on Sunday was "coordinated" with Havana. "This is our biggest humanitarian migrant crisis, after the rafters, and it's happening after the normalization of relations with the United States."
Olema adds that Costa Rica has offered Cubans asylum, but migrants have so far refused. She says their destination is Miami, a city that they consider "home."
On social media, activists continue to use the hashtag #PasoLibreYa (Free Pass Now) to support Cubans on their journey.
Related Posts
Chavista Bosom Buddy Will Lead Electoral Mission to Venezuela
EspañolVenezuela's upcoming election has already been rigged, from political imprisonments to hefty censorship by the Chavista regime. To rub salt into the wound, we now know that the only international organization with permission to observe and verify the process will be led by a bosom buddy of Chavismo and President Nicolás Maduro's United Socialist Party of Venezuela (PSUV). On Monday, November 17, the Associated Press reported that the Union of South American Nations (UNASUR) would appoint former three-term President of the Dominican Republic Leonel Fernández (1996-2000, 2004-2012) to head their electoral mission for the December 6 vote. This revelation drew immediate criticism as suspect from someone who has seen Fernández in action: Jatzel Román, executive director of the Center of Analysis for Public Policy (CAPP) in Santo Domingo. "The Dominican Republic is not a member of UNASUR, [and] he is not, by any means, a neutral person [on] the Venezuelan subject." Román explains that Fernández is not a hard-line Marxist of the Hugo Chávez or Fidel Castro variety. However, as president he was a solid ally of Venezuela, and he grew ever closer to and economically dependent on Chávez. "[He was] invited on many occasions to PSUV conventions in Caracas.… And even very recently, this year, when a mission of … former Latin American heads of state decided to sign a document asking for the release of [political prisoner] Leopoldo López — when they came to the Dominican Republic asking for his signature, he refused … and to this day he has not signed." The UNASUR selection of Fernández carries particular importance, because neither the European Union nor the Organization of American States have authorization to send electoral observers. Perhaps it will come as no surprise then that UNASUR Secretary General Ernesto Samper is, in Román's words, the "former leftist president of Colombia … a very close friend of Leonel Fernández.… [UNASUR] is a union that has been very much co-opted by leftist ideas." [adrotate group="8"] Román hopes to be in Caracas during the elections, and is concerned that his visa will likely be denied. However, his greatest concern is that the will of the people will not be expressed in the electoral outcome. He notes that opinion polls favor the opposition: the lead of "the opposition is so large that the fraud would have to be gigantic in order to [bridge the gap], which is something that I, of course, do not take off the table.… although I do think that it would have to be something historically dirty." One might downplay the value of international observers, given a lack of enforcement power, but Román counters that image is important to those in power: "for a long time [the Chavistas] have tried to paint what happens in Venezuela as being normal, and many people who are not interested in politics actually think that the press exaggerates regarding what happens [there]."