Hundreds Arrested on Eve of Embassy Opening in Cuba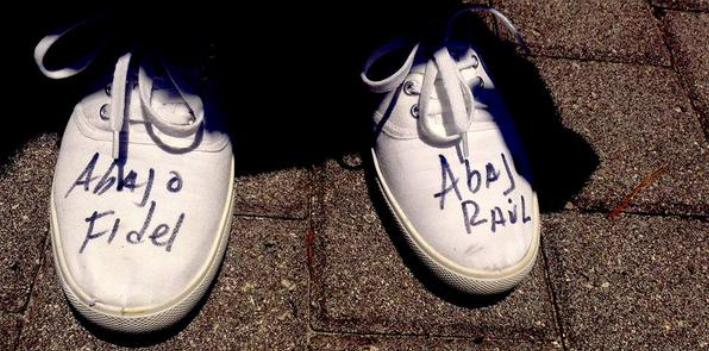 EspañolJust days away from the historic reopening of the US embassy in Havana, the Cuban regime shows no sign of slowing down on the number of human-rights activists they arrest. On Sunday, July 12, Cuban police detained at least 120 dissidents, including 40 members of the Ladies in White, while a protest in solidarity took place in Miami.
For 13 consecutive Sundays, Cuban authorities have arrested members of the Ladies in White dissident group either before or after traditional mass at the Santa Rita church in Havana. Last Sunday, the National Revolutionary Police (PNR) arrested the group's leader, Berta Soler, well-known dissident activist Jorge "Antúnez" Garcia, and artist Tania Bruguera, among others.
Bruguera has recently recovered her passport after six months of police withholding it following her arrest just before an artistic performance at Revolution Plaza.
After the arrests on Sunday, police transported the three Cuban dissidents to different parts of the city. Earlier that morning, the activists reported seeing four police vehicles and a detainee transport van near their location. Lázaro Yuri Valle, an independent journalist, said a police unit was stationed outside his home.
The Institute for Cuban and Cuban-American Studies at the University of Miami issued a report on July 13 regarding human-rights violations in Cuba between April and June of this year. It demonstrates that Cuban authorities committed more than 2,000 abuses for purely political reasons. According to the report, the most common violations were arbitrary arrest, physical aggression, vandalism, harassment, and "acts of repudiation."
Since July 2014, the highest number of violations occurred in May of this year, with a total of 641 cases of abuse. In June, Cuban police arrested or cited 563 activists, some locked in police vehicles for hours, and others brutally assaulted.
Solidarity in Miami
While Cuban police arrested members of the Ladies in White on Sunday, between 40 and 50 people gathered in front of the Freedom Tower in Miami, in a show of solidarity with the Cuban opposition.
"Today we are here to expose the actions that have taken place in Cuba every Sunday, where members of the opposition have taken to the streets and faced repression from the political police," artist Ana Olema told the PanAm Post. "There were marches taking place in unison, in and outside of Cuba," she said.
The Freedom Tower is a historic building in Miami, built in 1925, that served as the headquarters for the Miami News. In the 1960s, after Fidel Castro took power in Cuba, it was a refugee center for the first exiles of the Cuban Revolution.
Along with Olema, others in attendance included Ibrahim Bosch from the Cuban Republican Party, and Rosa María Payá, daughter of Oswaldo Payá, a Cuban dissident who his family believes was assassinated by the regime.
Translated by Thalia C. Siqueiros.
Related Posts
Henrique Capriles: Venezuela Must Refinance Debt, Avoid Default
"When faced with economic crisis, we must not remain indifferent," Miranda Governor Henrique Capriles Radonski said during a press conference on Tuesday. Amid soaring inflation, Venezuela must refinance its foreign debt to improve government revenue, he says. "We cannot sit back and watch our country destroyed." The governor unveiled a six-point economic recovery plan that aims to generate US$20 billion in revenue and halt the economy's downward spiral by the end of 2015. At it's core, says Capriles, the plan is meant to bolster the country's productive sector. Among other elements, the proposal aims to increase the minimum wage by 50 percent and establish a $250 million fund to buy school supplies to benefit as many as 9 million students before classes begin in September. Capriles, a former presidential candidate in 2012 and 2013, also suggests Venezuela immediately collect on foreign countries' oil debt, renegotiate unfair oil deals, revert the expropriation of more than 300 businesses, and renegotiate the government's debt with creditors. According to Reuters's data, Venezuela faces $6.4 billion in debt service for the remainder of 2015, which amounts to 40 percent of its international reserves — the worst level in 12 years. Additionally, the Andean country must pay $10 billion in debt service obligations between 2016 and 2017. "This is not a default, like the government intends when emulating Greece's model, which shortly after a political victory ended up settling with creditors," Capriles said. "The idea is to review the negative conditions in which the debt was acquired and generate trust through an economic plan that can be supported by [creditors]. This does not mean seeking help from the World Bank or the International Monetary Fund." Venezuelan President Nicolás Maduro has previously dismissed rumors of default as a "right-wing smear campaign" and insists the government will make all its foreign debt payments. Sources: El Nacional, El País.