Twice as Many Cuban Rafters Flee While They Can
EspañolThis month the US Coast Guard deported 38 Cuban rafters, after they attempted to reach the Florida coast. But these unlucky ones pale in comparison to the 9,371 Cubans who made it to US shores in the first quarter of 2015, as reported by US Customs and Border Protection.
This wave of new arrivals represents a 118 percent increase over the same period in 2014 — and that does not include the many who made their way to Mexico, the Bahamas, the Cayman Islands, or Honduras, among other destinations.
A shaky US policy regarding deportation may well be driving the surge. The contemporary "dry foot, wet foot" strategy came into force during Bill Clinton's presidency (1993-2000) and dictates that if Cubans are intercepted at sea, they must be sent back to the communist island. On the other hand, if the rafters make it to US soil, they gain a legal path to citizenship.
According to Coast Guard Spokesman Lieutenant Gabe Somma in Miami, rafters fear that lawmakers will decide to suspend the immigration benefits for Cubans, in the wake of renewed relations between the United States and the Cuban regime. That has translated into 421 Cubans caught since December crossing the Florida Strait, which divides the island from the continent.
Cubans cannot freely leave the country, since they are legally required to have a valid passport and permission issued by the Ministry of Interior. However, in January 2013 the regime modified this law, and the permission element was partially eliminated.
Why do so many want out? Cuban officials have signed the Universal Declaration of Human Rights and joined the UN Human Rights Council, but numerous civil-society organizations on and off the island point out daily how such platitudes bear little resemblance to the plight of residents and democratic activists.
María Werla, executive director of the Cuba Archive, affirmed with the PanAm Post that some rafters have died at sea in recent years, but the cause of death is often suspicious. She said no one knows the exact number of dead rafters, and that one cannot be sure if they drowned or if they were murdered by Cuban authorities who discovered them trying to flee.
"It is not always the case that if they do not arrive, they died at sea. We have heard reports of police firing shots at rafters if they find them escaping. Many who have not arrived, we guess, were murdered, but that is impossible to verify."
In this regard, human-rights observers with Eye on Cuba have shared a map with the number of detentions and abuses by police on the island. They further claim that in April, 30-year-old Cuban Yuriniesky Martínez Reina was shot dead as he was trying to leave with his companions, in the area known as Pinar de la Playa Menéndez, in the municipality of Martí.
Iván Picón is president of Balseros Cubanos (Cuban Rafters), a native of Havana, and works to unite the rafters in support of one another. He said to the PanAm Post that the influx of Cubans effectively increased after December 17.
"Those who are not working for the government of Cuba want to leave the country. For political or economic reasons, the majority of Cubans want to emigrate."
Likewise, he explained what tends to happen to rafters who are deported back to the island: "They all go through a military post for processing. The majority of them are already marked men, since everyone knows who they are. Those who have had problems with the military get sent to jail."
Such is their desperation, Cubans have gotten creative, and even windsurfed all the way to Florida, hidden in the landing gear of planes taking off from Havana, and swam to the Guantánamo Bay.
Many others travel to Ecuador, since it is one of the few countries in the world that does not demand a visa for Cuban citizens. From there they walk all the way through South and Central America to reach the United States, crossing the border through Mexico.
Translated by Santiago Astrobbi Echavarri.
Related Posts
Chilean Marijuana Users Get a Little Help from Congress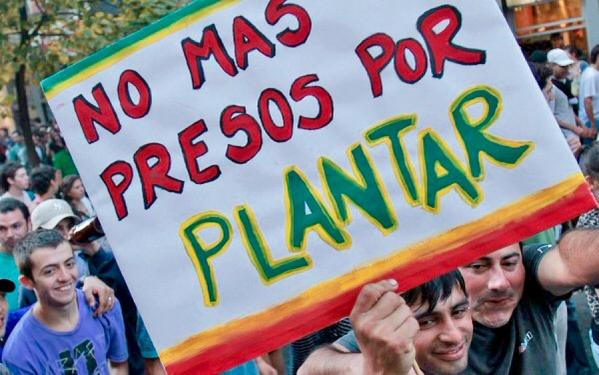 EspañolChilean lawmakers on Tuesday approved by a wide margin a bill that would allow citizens to grow and consume small amounts of marijuana for medical, recreational, or spiritual purposes. The bill now must be studied by a health committee and make its way through the Senate before being passed into law. If enacted, Chileans over the age of 18 will be authorized to grow up to six marijuana plants, or store up to 500 grams, in their homes. The bill would also allow the possession of up to 10 grams of cannabis, although medical marijuana patients will still need to file a prescription for their medicine. "I hope we can reinforce the education process to avoid stigmatizing [marijuana] consumption," Congressman Giorgio Jackson said. The independent lawmaker called on the Chilean government to "get involved and stop running away from a debate that is necessary to eradicate drug trafficking" in the country. "This bill advances civil liberties and the end of drug trafficking," he said. President Michelle Bachelet has remained silent on the bill, despite her administration authorizing last October a pilot program to allow an NGO to grow marijuana for medical purposes. "Some are missing the administration's presence in this debate," said Congressman Matías Walker, coauthor of the bill. "I, on the other hand, welcome the fact that they are not in this room. After all, it was Congress who initiated this debate." Socialist Party Representative Denise Pascal says she supports the bill and says police need to stop jailing "citizens who are just having fun." "We need to legalize personal marijuana cultivation, so we can stop calling criminals those people who are not," she said. "By doing this we are also eliminating narco-trafficking." Chile joins a growing number of countries across the Americas that are in the process of legalizing cannabis, such as Colombia, Jamaica, and Uruguay, as well as several US states. Sources: El Mostrador, La Voz.