Alleged Cuba-Venezuela Spy Network Targets Maduro's Opposition in Chile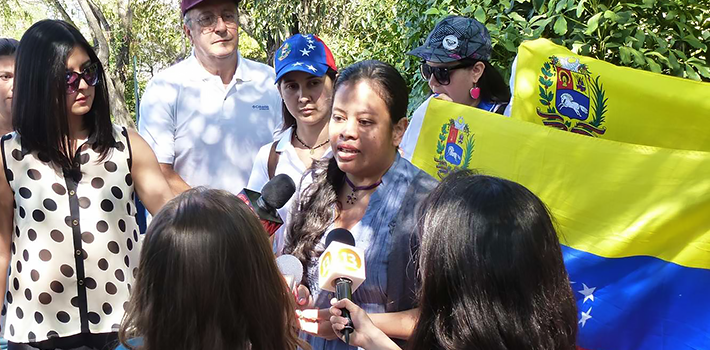 EspañolOn Tuesday, Venezuelan activist María Laura Liscano denounced Cuban espionage against opponents of the Nicolás Maduro regime who reside in Chile, following Monday's report by Chilean television station Mega.
Liscano calls herself a spokesperson for Venezuelans in Chile, where she has lived the past four years since leaving her job as an intelligence analyst for the Venezuelan government.
The Mega report focuses on a Cuban national who claims to be an agent for a Cuban diplomat in Santiago, Chile. The individual claims the diplomat ordered him to infiltrate the leadership of Venezuelan opposition groups operating in Chile, and report on their activity.
[soundcloud url="https://api.soundcloud.com/tracks/171063426″ params="color=ff5500&auto_play=false&hide_related=false&show_comments=true&show_user=true&show_reposts=false" width="100%" height="166″ iframe="true" /]
"The espionage is coordinated by the Cuban embassy, and is directed at certain sectors in Chile that oppose Maduro. This is not the first time this has happened. In 2010, a Cuban leader in Chile denounced a similar practice being carried out against the Cuban community," Liscano said.
The Venezuelan activist told the PanAm Post that she was surprised by the revelation that Cuban agents were focused on her: "It's one thing to recognize that you are exposing yourself, but the reality [that they are spying on me] is another thing entirely."
"We always knew that we were vulnerable to espionage; there have been many times when we were protesting, and people who are opposed to us would come and take pictures," she said.
Liscano said she represents a nonpartisan Venezuelan community that share the same concerns expressed by student protesters who took to the streets in Venezuela in February.
Spying with Immunity
María Liscano — who says she does not receive support from any politician, nor is she the member of any organization in particular — harshly criticized Cuban and Venezuelan diplomats: "Diplomats have a license to spy. They have immunity, and with this immunity they pursue Venezuelans living outside the country."
According to Liscano, intelligence agents are simply attempting to scare the Venezuelan opposition: "It is a form of intimidation and [it is done] to try and generate fear, so that we'll fall apart as a community. I call on our community to not be afraid, because fear is what keeps us caught in the Cuban yoke."
Cuba-Venezuela Relations
The Mega report reveals an alleged Cuba-Venezuela spy network, where information on the most prominent opposition leaders in Chile is shared.
"At the moment, Venezuela and Cuba support each other. Evidently, Venezuela is yielding its power to spy on its own citizens to Cuba," said Liscano. "Santiago Ocampo, an official from the Cuban embassy in Chile, said in the [Mega] report that Venezuelan security forces are also following us. Basically, what they are doing is counterintelligence."
Liscano said one of the main reasons she protests is so the international community takes notice of the human rights violations that are occurring in her country. She says she left Venezuela because she became "overwhelmed by seeing so many things."
She does not fear for her life, but is more worried about her mother and siblings in Venezuela. "I don't have a reason to be afraid because our actions are open, public, and organized on Facebook. We don't have a hidden agenda. My biggest concern is my family in Venezuela," she said.
She takes solace in the fact that, in Chile, individuals can openly protest against what is happening in their home countries. "In Venezuela, there is an open persecution of those that think differently than the regime. They watch you."
The Brutality of Cuban Intelligence
Karel Becerra, a Cuban national currently living in Argentina and secretary of international relations for Independent and Democratic Cuba, says the spying in Chile is far from "Cuban intelligence."
"In Cuba there is no intelligence or counterintelligence; the only thing that exists is brutality and counter-brutality. A central premise in Cuba is a lack of resources. This means that any agents they contract lack any sort of skill, knowledge, or professionalism, because they pay them very little. The ones that are actually any good are focused on other things," Becerra told the PanAm Post.
According to Becerra, the work being done by these spies —  following supposed Cuban opposition in Chile — could be done by anyone. It only reinforces "what we already know," he says, "that the regime is totally bankrupt." Becerra added that he sure "no one in Chile is planning any sort of attack on the Cuban regime, because the regime is already dead."
As for potential reasons for the espionage, Becerra explained that Cuban agents have to fulfill certain intelligence quotas: "Cuban intelligence has become an enormous bureaucratic organization in which each agent has a specific quota, which they have to turn in."
Bercerra said this could have been the case with this most recent report of Cuban spying. "[The Castro regime] recruits poor men who fear for their lives, who want to get their families out of the country, and they put them to work gathering this type of intelligence, which is nothing more than information against the regime that is available to the public."
Translated by Alex Clark-Youngblood.
Related Posts
Journalists Take Note: Economic Wisdom and Limits of the State
EspañolRecently I participated in an Economics Training Program for Journalists, organized by Cedice Libertad, a libertarian policy institute located in Venezuela. The Young-Cedice coordinator, Gerardo Núñez Schloeter, shared arguments for and against state planning, specifically given the dynamics of our oil-rich country. In particular, the Cedice staff member explained that the state is not some abstract or mythical entity. Rather, it's a group of individuals who hold power and make decisions that affect the members of a society in a given territory. "State intervention in the economy is justified on existing market failures, such as monopolies and oligopolies," he said. "So the state is intended to intervene [and correct these failures]. This view assumes that the state has the capacity to compile and systematize all the information of a nation. In contrast, the antagonistic view holds that only the market can adjust fast enough to the changing preferences of individuals.… Economies such as those of Cuba, the Soviet Union, and North Korea are examples of how complete economic planning fails." https://twitter.com/CEDICE/status/517479377055907840 "That is why the operation of the free market is so essential. Not only to promote productive efficiency, but even more to foster harmony and peace among the peoples of the world." ~Milton Friedman The 1960s and 1970s offer one pertinent example. At that time, many Latin-American nations attempted a strategy to replace imports with domestic production. However, this Import Substitution Industrialization encouraged the creation of few competitive industries and many dependent on state controls for survival. Cedice Research Assistant Núñez Schloeter went on to explain that the Venezuelan private sector was struggling in 1999, when Hugo Chávez took control. This misunderstood failure opened the door for the implementation of aggressive state planning by the now deceased president. Such controls and entry barriers to protect domestic should be limited with sunset clauses, Schloeter said, "but the controls to protect the domestic companies never stopped." He says that the state is simply not able to control each changing situation, which are valuable anyway in a modern economy: "How will the state meet the specific needs of fishermen from a village in Boca Uchire, in the east of the country … or how will the state make discretionary decisions that affect our workday?" Finally, Schloeter noted that state control runs contrary to the equality and nature of human beings. There is no such thing as an omnipresent state, and when those in power manipulate economic outcomes, they lose their ability to mediate impartially. Fergus Hodgson contributed to this article.