The Unwinnable War: Costa Rica's Drug Trafficking Conundrum
EspañolOn October 10, 2010, a small Piper Navajo airplane crashed in a riverbank soon after taking-off from Tobian Bolaños airport, located just outside Costa Rica's capital, San Jose. While the death of one of the two passengers on board was notable, the big news was the cause of the crash: the plane's wings were too heavy due to excess weight.
The crash was nothing more than a footnote elsewhere in the never-ending war on drugs. In Costa Rica, though, it made major headlines. The commandeering of the plane — and its contents of illegal substances — personified the much bigger transition in the nature of Costa Rica's role in the American continent's drug trafficking market:
Costa Rica is no longer simply a bridge to transport illegal drugs; it is now also an operating zone.
Costa Rica has traditionally been used as the meeting point between the two most prominent drug cartel homes on the continent, Colombia and Mexico. With the collapse of many Colombian cartels, a paradigm shift resulted in the restructuring of the region's drug trafficking organizations. Starting around the turn of the millennium, Mexican rings surged to be the dominant presence in Central America. With the surge, Costa Rica started becoming established as both a warehouse and trading center.
More recently, there have been noticeable increases in suspected processing sites and discoveries of drugs by Costa Rican law enforcement. Between 2006 and 2009, Costa Rican police seized over 90 tons of cocaine, and more than 40 tons have been seized thus far in President Laura Chinchilla's administration. So far in 2013, that number is 15 tons.
And it's not just cocaine. In a bust last August, police found over US$200,000 worth of ecstasy. In addition, examples in the last month include the seizing of US$50,000 and heavy weaponry on a site near Irazú volcano and the discovery of a suspected cocaine-processing lab — equipped with four helicopter pads — in Costa Rica's Limón province, along with a similar lab near San Carlos with a rocket launcher and more helipads.
The recent increase in drug confiscation and processing site discoveries is due in part to a refocused effort by the current administration to crack down on, and catch-up to, the advance of cartels operating inside their borders. The question that the country must now face is whether or not to continue down the path they've always been on in a war that many, including my PanAm colleague Carlos Sabino, characterize as unwinnable.
Costa Rica as a nation has for a long time taken a firm, though often inconsistent, line against drug trafficking. Through her tenure as president, Laura Chinchilla has also taken the politically popular stance of fighting against the cartels. That won't stop now with her tenure almost at its end, and her seeking last-minute strategies to boost her regionally low approval ratings.
But like the nation's hit-and-miss success rate, Chinchilla's stance itself is not without controversy. Earlier this year she twice used the private jet of Gabriel Morales Fallon — who was under investigation by Costa Rican intelligence officials for possible ties to drug trafficking. The first instance, in March, was to attend the funeral of Hugo Chávez. The second was in May for a personal trip to Peru.
Further to the point of a hard stance, Costa Rica has harsher punishment (8-20 years) for drug trafficking than it does for murder (12-18 years). A national newspaper, La Nación, also reported in October of this year that 80 percent of arrests in Costa Rica are related to drug trafficking — and those arrests are on the rise.
However, the nature of those 80 percent of arrests is largely unknown, and very few arrests have been reported in the recent raids. Assistant Director Gustavo Mata of Costa Rica's top police force, the OIJ, explains that the mountainous terrain where the cells have been operating makes arrests extremely difficult. He expanded on the broader topic by stating that Costa Rica may need to request help from allies to tackle the well-armed criminal organizations because "the strategy we've been using isn't working."
Which emphasizes the real problem. Strategies currently in place — and the severe legal punishments that accompany them — may be successful on smaller, individual cases. What they seemingly aren't, however, is effective as deterrents against the operations of big, combative organizations.
With the manner in which cartels are using Costa Rica changing, another important decision is looming to determine the merits of engaging. Smaller victories are good for morale and political poll numbers. In the broader, practical picture, though, they aren't much more than a ripple in the water. Elections are set for February 2, 2014, and that strategic decision will be with the new president. The one he chooses will be important to monitor in what is increasingly being labeled the world's unwinnable war.
Related Posts
Venezuela's Store Owners to the Firing Squad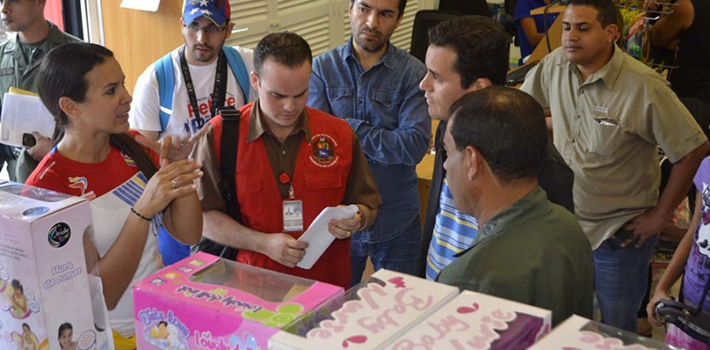 EspañolIn a nationwide radio and television appearance on November 8, President Nicolás Maduro of Venezuela accused appliance retail managers of hoarding merchandise and speculating on prices. Maduro held them responsible of being part of an "economic war" against him and promoting the skyrocketing inflation affecting that sector. He also accused them of taking dollars to buy imported goods at the official exchange rate (Bsf. 6.30 per dollar) and instead selling them on the black market, where they trades ten times higher. After demonizing store managers and setting the scene, Maduro unilaterally and illegally ordered a confiscatory 50-70 percent reduction on the prices of goods. That mandate was coupled with another one, equally threatening: "Leave nothing on the shelves." Many private companies had paid aguinaldos (a statutory Christmas bonus) on that same day, so people had money in their pockets. The combination of this measure and Maduro's mandate triggered national pandemonium. The next day, an angry mob looted a Daka store — one of the major Venezuelan appliance chains — in Valencia, capital city of Carabobo state, and took away most of the merchandise: flat-screen TVs, audio equipment, microwaves. [embed]http://youtu.be/hmUDvPRO7nA[/embed] At the same time, the main stores in Caracas and other cities of the province were surrounded by crowds seeking to tap into Maduro's arbitrary decision. In some areas of the capital city and several inland cities, emotions ran high when the rushing buyers were unable to obtain their desired products or found they had run out, after a long wait. The Guardia Nacional Bolivariana prevented an outbreak of violence, even though some of their members also attended the feast. Since Maduro's cry, Venezuela has been living amidst frenzy. The atmosphere of distrust, instability, and polarization has deepened, and a large segment of the population feels as if they have plunged into a pressure cooker, waiting to explode. Upcoming Elections and Maduro's Decline Maduro's coercive decision derives from a fundamental weakness: most polls have revealed the continuous and unstoppable erosion of his image. And this is causing a detrimental impact on mayoral and council candidates towards the municipal elections, to be held on December 8. A significant portion of the country, particularly the poorest sectors, blames him for the inflationary spiral and for doing nothing to stop it. Cornered by the price escalation and internal volatility, he has taken a well-trodden path for communists: he defined his enemy — in this case, store managers — slandered them, and directed his attacks without mercy. The entire communications apparatus of the regime is now focused on affirming Maduro's dictatorial decision. Through his populist, demagogic, and short-sighted measure, he intends to make up lost ground and prevent the ruling party from suffering a humiliating defeat in the nearing elections. The government applied this method, unsuccessfully, in past mayoral and gubernatorial elections, when refrigerators, stoves, fans, and other appliances were distributed across what were considered key electoral areas. However, their candidates eventually lost that election anyway. This was in 2008 in the Sucre municipality of Caracas, where the ruling party's candidate, Jesse Chacón, lost by a wide margin to the opposition candidate, Carlos Ocariz, who had no money to give away. Any examination of inflation in the appliance sector from the economic perspective, reveals that price escalation in 2013 is undeniable. However, this is the necessary consequence of the disastrous and unjustifiable currency controls imposed by the government a decade ago. The regime has failed in its attempts to apply currency distribution instruments, with agencies like the Comisión de Administración de Divisas and the Sistema Complementario de Administración de Divisas, and auctions. Such mechanisms have proved insufficient, forcing businessmen to turn to the black market to purchase goods and replenish their stock. Businessmen are not the culprits, rather the victims of the inflation caused by the government's control and intervention. Venezuela Towards the Abyss Most governments worldwide make continuous efforts to set up a legal framework that guarantees property rights, achieves stable macroeconomic variables, allows balanced budgets, and keeps economic activity within a transparent environment. A rule-of-law state, based on a respectable judicial apparatus as well as clear rules for all the stakeholders involved, is crucial to attract both local and foreign investors. Similarly, stability and confidence are considered essential values in most countries, but it turns out that the Venezuelan Chavistas have decided to go against history. They have ignored and trampled upon the articles of the Constitution and the Code of Commerce, which guarantee private property and freedom to undertake any legal economic activity. However, even with their tangled web of laws, regulations, and agencies schemed up by the regime, to harass merchants and industrial producers over fifteen years, Maduro's remains insecure. So he turns to measures that create confusion and increase judicial uncertainty. The Institute for the Defense of People's Access to Goods and Services (Indepabis) and the "Fair Prices Law" are part of that framework. The intense attack against store managers — who pay taxes and keep large payrolls — by Maduro's goons will further emphasize the atmosphere of hostility against private investment. Inflation, shortages, and currency devaluation are sure to worsen, and we shall have to wait a long time before the emptied shelves are filled again. Maduro is leading Venezuela into the abyss.