Mexico's Police Outdo Even Politicians for Corruption
Español On June 16, the Mexican National Institute of Statistics and Geography (INEGI) presented the National Survey for Governmental Quality and Impact (ENCIG), with less than uplifting findings. Their analysis reveals that 12 out of every 100 Mexican citizens or residents are victims of direct corruption when carrying out government paperwork.
"We no longer hear stories about corruption that happened in the distant past or stories from an acquaintance that told someone that a friend of a friend was a victim of corruption. Basically, now when someone does a bureaucratic procedure or asks for some form of service, 12.1 percent of those surveyed tell us that they have been victims of an act of corruption," shared INEGI President Eduardo Sojo Garza Aldape at the press conference with the results.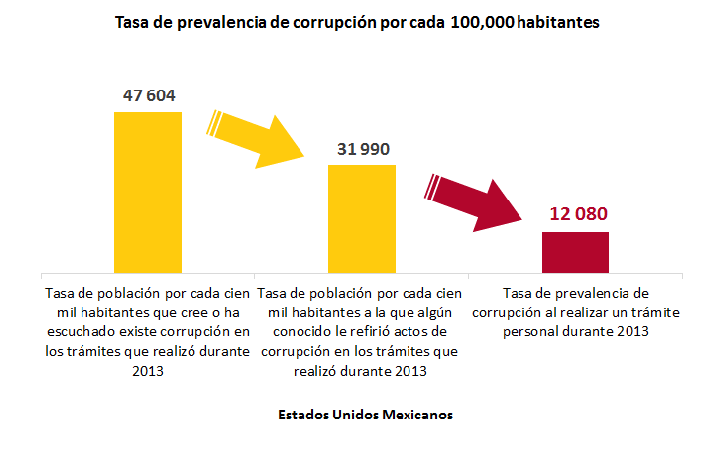 Adrian Franco, director of government and safety statistics, clarified that the study does not measure the Mexico's overall rate of corruption, but the type of corruption that citizens face when they go to a government office to request paperwork or a public service.
"There is no corruption included here that could be present in public works; that's a whole different matter," he said. He also explained that the percentage of people who believe and have heard that there is corruption in the proceedings, requests for services, or services carried out during 2013 was 47 per 100 inhabitants.
On the incidence of corruption, Franco stated that of the 30.1 million paperwork submissions or service requests, 7.4 percent of them experienced corruption. When aggregated over multiple requests, this results in an incidence rate of 25 acts of corruption per 100 people who file with government agencies.
In terms of the specific experiences of corruption that occurred during paperwork or the use of public services, 50.6 percent of people were victims of public security authorities, 24.8 percent were victims when dealing with property permits, and 21.9 percent when making various payments.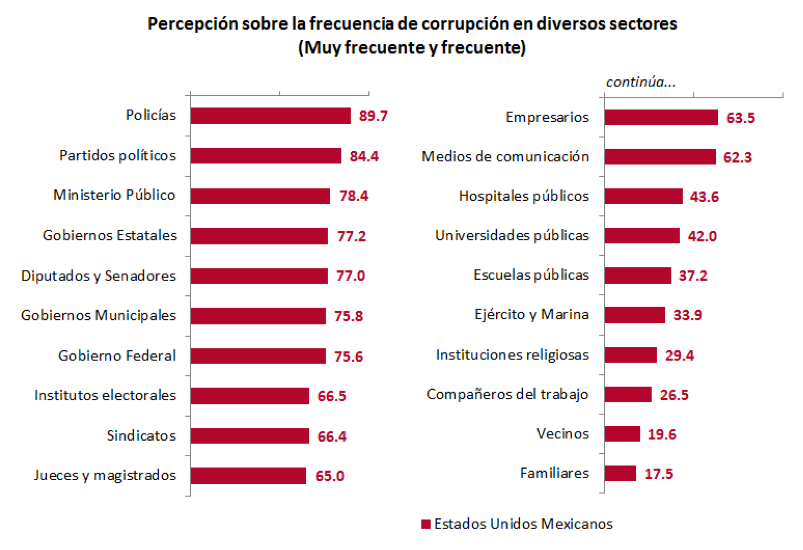 According to the survey results, 88.3 percent of citizens believe that there is corruption in their own state. Mexico's institution with the worst reputation is the police force, with 89.7 percent of respondents identifying them as corrupt. They are followed by political parties at 84.4 percent, the Public Prosecutor's Office at 78.4 percent, state governments at 77.2 percent, legislators and senators at 77 percent, and the media at 62.3 percent.
Corruption comes in third place of all the problems that worry Mexicans the most, with 48.5 percent holding this view — even ahead of poverty at 39.3 percent. This is only behind crime and security at 70.4 percent and unemployment at 51 percent, respectively.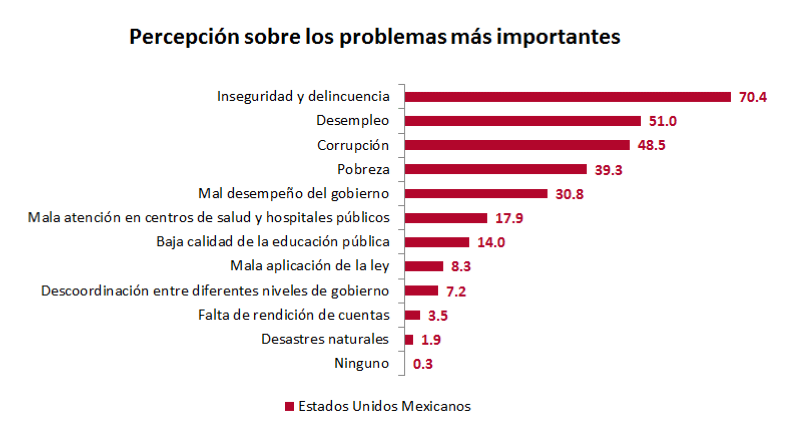 The ENCIG investigated perceptions of corruption as well as the incidents of corruption when public services where requested. The surveys were carried out from November 4 to December 13 of 2013 in which 33,000 households of adults living in urban zones of more than 100,000 inhabitants were asked a variety of questions concerning corruption.
Criticisms of the Survey
The ENCIG ranked corruption perceptions in various states of the Mexican Federation, and San Luis Potosí came in first at 95.3 percent. Legislators from the National Action Party (PAN), Francisco Rodríguez and Patricia Leal, criticized the survey indicators that place the state of Puebla, which they represent, as the third most corrupt. They believe that the results are distorted by the preference for high-population centers, and that the methodology used misleading questions.
"These are perceptions," Rodríguez says. "It should also be taken into consideration that we have the fourth largest city in the country. The more flow of people there is, the more we are susceptible to these types of results. But we can make a more serious effort to improve this situation."
Corruption, Insecurity Hinder Economic Growth
These results support the Mexican entrepreneurial class's perception of corruption and insecurity in México as the biggest obstacles to economic development. That is according to results from the Pulso Expansión 500 investigation with the following question: "What is lacking from this government in order to make the economy take off?"
Businessmen believe that the battle against corruption has to be the government's priority. This includes pushing for greater transparency and better management of public spending. With regards to insecurity, some Mexican businessmen surveyed believe that it is necessary to ramp up the battle against kidnappings, the offensive against drug trafficking, and the identification of government officials linked to those crimes, especially at the local level.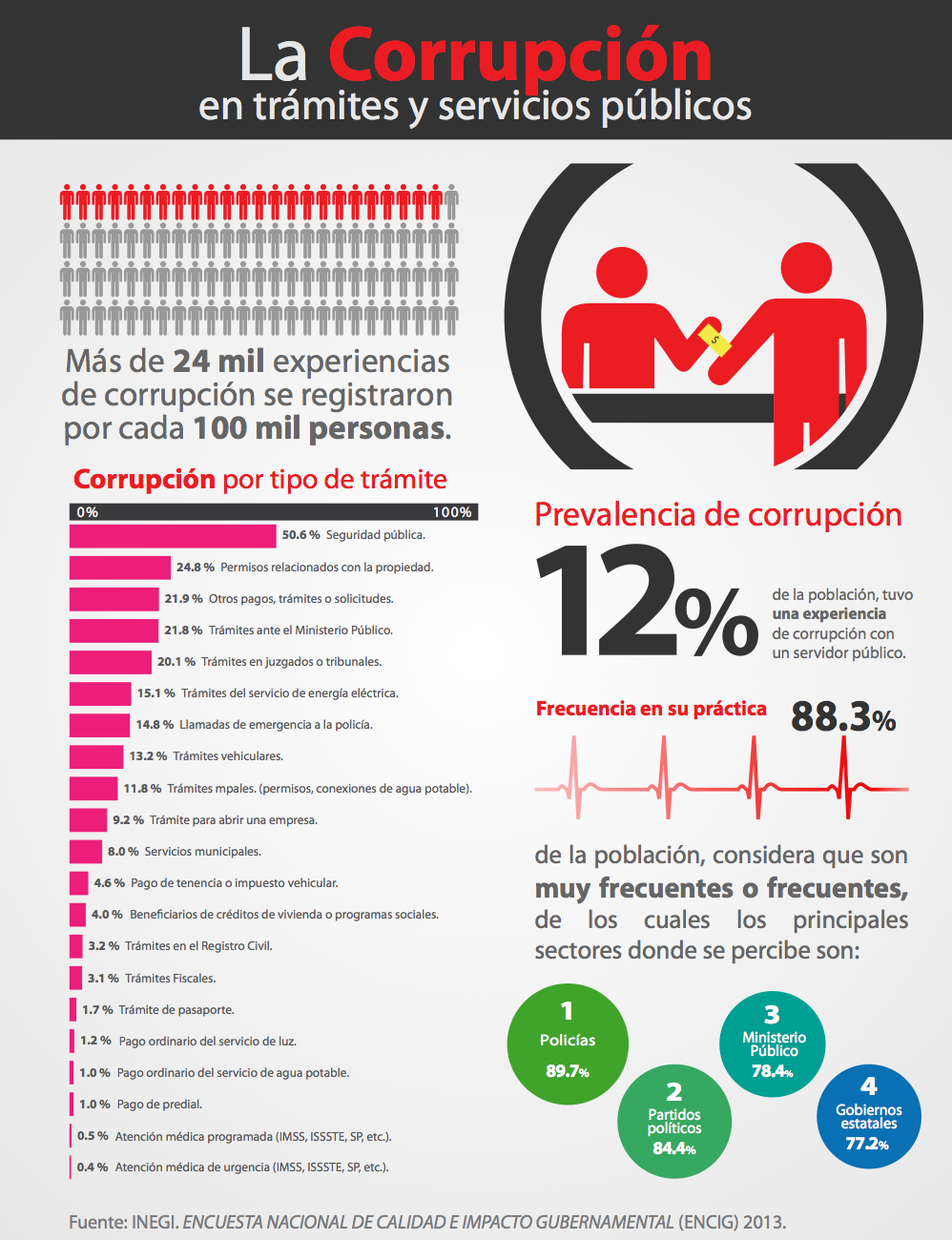 Related Posts
Bolivia Not Revolutionary Enough to Tolerate Bitcoin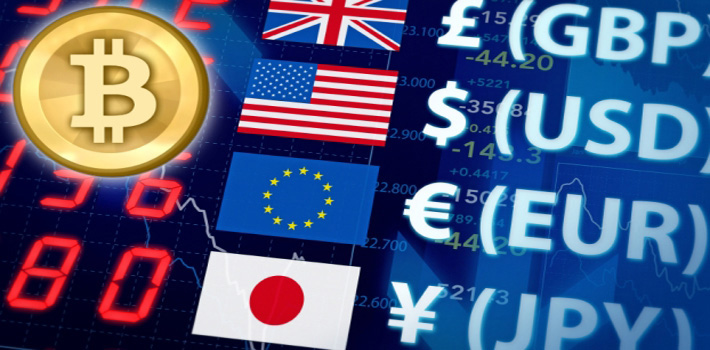 EspañolOn May 6, the Central Bank of Bolivia (CBB) issued resolution 044/2014, which expressly prohibits the use of any currency not issued or regulated by a state, which includes bitcoin and many other cryptocurrencies. Thus, Bolivia is the first country in Latin America to formally outlaw cryptocurrencies. Meanwhile, bitcoin has been growing slowly but surely in the rest of the region, and finding its place in the economy of most neighboring countries. The fact that it is global and enables anonymous transactions has been crucial for its expansion to all corners of the world. Bitcoin has opened up a wide range of opportunities for entrepreneurs in extremely regulated activities, such as betting on who will win the 2014 World Cup in Brazil. Article 1 of the document states that "With the publication of this resolution, the use of currencies not issued or regulated by states, countries, or economic areas, is prohibited, as well as electronic payment orders denominated in currencies not authorized by the Central Bank of Bolivia in the context of the national system of payments." The resolution mentions virtual currencies such as "bitcoin, namecoin, tonal bitcoin, ixcoin, devcoin, freicoin, 10coin, liquidcoin, peercoin, quark, primecoin, feathercoin, and others not belonging to any state, country or economic zone." As these are not emitted or regulated by any state, the resolution asserts they could "cause losses for their holders." The resolution also states that mobile wallet payments must be denominated exclusively in bolivianos, the national currency. This decision is in line with the regulations under Article 331 of the Political Constitution of Bolivia, which states that the provision of financial services and any other "activities related to the management, use, and investment of savings is of public interest," and can only be exercised with permission of the Bolivian state. The document, signed by the directors of the board of the Central Bank, explains that this resolution is intended "to ensure the stability of domestic purchasing power," which is also the stated aim of the Central Bank's monetary policy. But Iván Carrino, an Argentinean economic analyst, believes that national governments and central banks are primarily responsible for the loss of a currency's value over time. "Argentina is a typical case, where the Central Bank, since its inception, has destroyed five different national currencies." He added that Bolivia "is also a good example, since a few years before our last hyperinflation, that country also went through that devastating economic downturn." In this regard, Mauro Betschart, co-founder of Moneero, a bitcoin-services company, told the PanAm Post in an exclusive interview that Bitcoin was born precisely with the objective of protecting people from the distorting monetary policies implemented by governments. "People who live in Latin America … do not trust the government to direct monetary policy. They have suffered, among other problems, from chronic hyperinflation, banking crises, and currency restrictions," explained the young entrepreneur. Franco Amati, pioneer of the cryptocurrency in Argentina and cofounder of Bitcoin Buenos Aires — an upcoming bitcoin-centered venue in the heart of Buenos Aires's downtown — explained that bitcoin is a valid currency regardless of what any particular law says. According to Amati, the true legitimacy of a currency arises from "the reality of its use and adoption in the marketplace." He also said that these type of measures reflect the disconnect of the Bolivian government's views with what already is an irreversible, global trend. "What the CBB is doing is not just an authoritarian measure that restricts the personal liberty of citizens, it also runs afoul of the regulatory frameworks being implemented in the rest of the world. Countries such as Australia, the United States, and Germany, have launched transparent legal frameworks, and even guidelines on how to file taxes for people who use bitcoin. Only Iceland and Vietnam have taken measures similar to Bolivia's." Bitcoin Buenos Aires, Amati's project, will be a gathering point for the Argentinean bitcoin community, and will feature a training center and office facilities for bitcoin companies such as BitPay and BitPagos. Resolution of the Central Bank of Bolivia Translated by Alan Furth.