Where HoyPido Is Going, We Don't Need Kitchens
EspañolSince the advent of the smartphone, the internet has become ever more present in our lives, turning traditional industries upside down and changing the way we go about our daily tasks. We are constantly on the verge of massive creative destruction, as economist Joseph Schumpeter would say.
Countless tech startups have jumped on the disruption train, and not only in Silicon Valley. In Argentina, culinary entrepreneurs are tackling one of our most ordinary tasks: preparing our own food. "We are competing with your own homemade cooking," says Nicolás Parziale, a software developer and founder of HoyPido.*
Just like remote storage, online music, and on-demand computing, HoyPido aims to be a "cloud restaurant."
"The idea of a restaurant in the cloud is that you have a chef and a kitchen available on your phone. You press a button, and food appears," he tells the PanAm Post. "Our mission is to be the most convenient way to produce, distribute, and sell food."
"Our chef offers three meals every day. All you have to do is go to the website, pick one from the menu, and forget about the rest," he explains.
The idea, Parziale says, came after realizing that there was a coordination problem at work during lunchtime. "We had to decide where we would eat, then all had to agree, and there was always someone taking too long to order. A lot of time was wasted this way. It didn't create team spirit, and needless discussions arose," he recounts.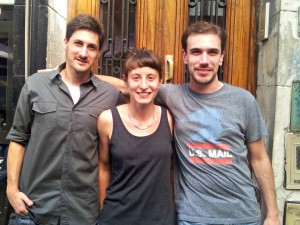 So, in 2014, Parziale teamed up with two partners — one with an arts degree, and the other with a bachelors in business administration — to cater to the time-constrained office workers in Buenos Aires.
HoyPido even accepted bitcoin from its inception.
Parziale says customers paying with cryptotcurrency was much more common in the beginning, back when the company only delivered to five blocks in the Retiro neighborhood, where the Buenos Aires Bitcoin Hub is located.
"Three months ago, we were only available in two neighborhoods. Now, we serve 13," he says, adding that orders in bitcoin have increased only gradually.
United by Apps
Since HoyPido doesn't have its own store front or kitchen, it's hard to tell whether it's a restaurant with an app, or an app with a restaurant.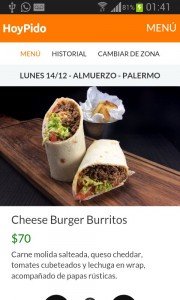 Technology, however, definitely plays a part in every step: "cook, delivery, and client. Each one has a different profit margin, but they all use our software," Parziale explains. "The entire restaurant is technologically intervened, with apps for the kitchen, for the node operator, and the delivery guys."
"The delivery guys know that they can serve more customers through our app than anywhere else; they earn larger profits within our system that outside of it. We rely on state of the art technology to pick the best possible route and estimate how long the delivery will take," he says.
"We have over 250 tried and tested meals," Parziale boasts. Clients can review their past orders and know which meals they consume the most. "You can [also] get dietary information; most people don't keep track of what they eat everyday. [With HoyPido,] you can get a much more transparent record of your eating habits."
The End of Kitchens?
HoyPido doesn't see itself competing with the delivery services of traditional restaurants, where the occasional pizza, sushi, and empanada dominate dinner take-out orders. Instead, Parziale says that what his company is trying to do is optimize what, for most people, is a daily and time-consuming task.
"We offer meals that people don't even know exist. While you're working, you don't think about cooking; you have 200 unanswered emails, and you don't want to lose 30 minutes ordering from a traditional restaurant, not knowing whether it will arrive in five minutes or two hours," he says. "You could always take two hours to go to the supermarket and cook — assuming you know what you have to buy, how to cook, and prepare different meals."
Their long-term goal is to make HoyPido cheaper than cooking at home. "Think about all the extra time you would have if you didn't have to shop for groceries, cook, and worry about what to cook; you could be much more productive," he contends.
We cannot imagine our homes without kitchens, but Parziale believes that "in an ideal future, that room won't be there anymore." Will the kitchens of the future become a luxury for cooking hobbyists? Only time will tell.
*Editor's note: the author of this article is regular client of HoyPido.
Related Posts
Want Reform? Look to the States, Not the Feds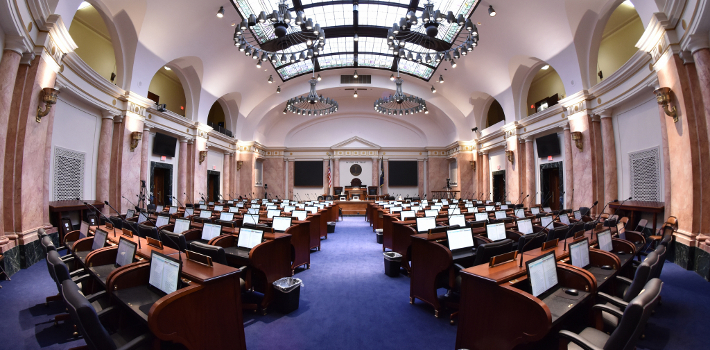 EspañolA chill is in the air in the US capital on this first week of the year, and it has nothing to do with winter finally taking hold in Washington after a warm, beautiful December. It's coming from the seemingly frozen halls of a gridlocked federal government, after the press mocked Congress for one of its least productive years in recent history. I'll leave it up to you to decide if that's a good or bad thing. Federal politicians are busy fighting each other over culture-war issues and posturing before voters prior to the 2016 presidential election. Meanwhile, most state legislatures are gearing up for what looks to be a productive year addressing a broad range of issues that are more tangible to normal Americans. While there will be far too many changes to list here, there are a few positive trends in the states that are worth noting. Federal tax reform has long been a policy mirage. It seems so close, so real, but any time someone tries to get closer, it turns out there was never anything there at all. In the states, tax reform is no mirage. While sometimes politicians promise what they can't deliver on reform, even solidly Democratic states regularly seek to make the tax climates better. In 2016, that trend will continue. A big theme will be simplifying taxes which bring in minimal revenue but cost lots of money to comply with, such as taxes on business machines and other such "capital stock" taxes. While tax reform happens nearly every year, substantial regulatory and criminal justice reforms do not. Like taxes on businesses, states are realizing that laws that make it harder for the working poor to scrape by are laws that should be repealed. Even progressive legislators are coming to understand that choking entrepreneurial dreams with red tape hurts the state. On the regulatory front, expect lots of small changes to legalize or deregulate activities that appeal to changing consumer sensibilities. In an age where people are more likely to check a Yelp business rating than seek out a company's professional license, laws that cartelize industries in the name of consumer protection are on the chopping block. These include famous examples, such as taxi regulations falling after pressure from Uber, and rules governing the craft brewing of beer. But there are also instances from a number of other economic sectors. Expect to see state legislatures debate rules governing selling home-prepared food and liquor, occupational licensing laws, and those governing childcare provision. On each of these, the burden falls squarely on the nation's poor, and legislators know that. Beyond this, we should also see some states make changes to allow innovative business models, such as accommodating companies like Airbnb and Tesla. They will also try to make regulatory space for the rise of private infrastructure projects. Yet, above all else, this may be a year in which legislatures take up criminal justice reform. 2015 was fraught by tensions over law enforcement, so changes in this field should be popular and are clearly necessary. Reforms to mandatory-minimum sentencing laws will be discussed, as will reforms to police procedure. The most ubiquitous topic will probably be the expansion of police body-mounted camera mandates, which would be a big step to make law enforcement officers accountable. Reforms like these which increase police accountability should be the most common, but expect some repeals of criminal laws as well. For instance, this year may see states like Vermont, Rhode Island, or Delaware be the first to legislatively pass cannabis legalization. Between three to five states, meanwhile, are expected to legalize the drug by public ballot in the fall. Election year gridlock is a fixture of Washington politics. Yet, while the nation turns its eyes toward Iowa and New Hampshire, reform does not stop; it just gets ignored. 2016 looks to be a big year for states to reform both their regulatory rules and criminal justice policies, while state tax reform moves forward at its typical pace. Faced with inter-state competition, legislators in most states have no choice but to improve their business climate. Unlike their federal counterparts, inaction is not an option. Inaction just means falling behind.