Argentinean Sex Workers Demand the Right to Sell Their Own Bodies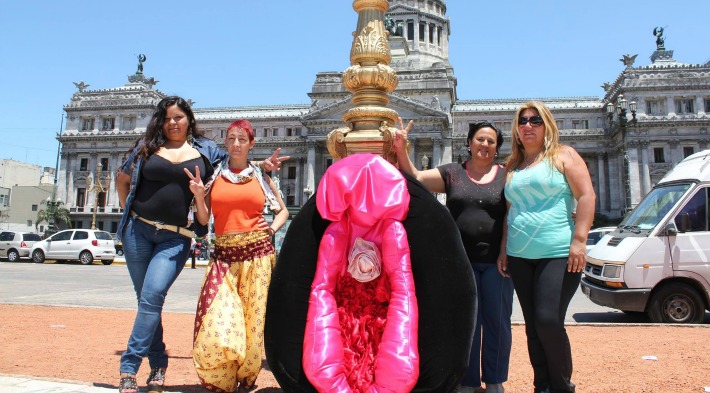 EspañolStanding in front of the National Congress as a scorching sun heats up the streets of Buenos Aires, some 10 women seek refuge under a tree's shadow as they begin the second day of their campaign.
They consider themselves workers, and aim to be recognized as such. Others believe that unfavorable circumstances pushed prostitution upon them. "Many use their hands, others use their brains. We use our vaginas to work," says Mónica Lencina, an officer at Ammar, the Argentinean union of prostitutes.
Curious passers-by stop to photograph the model vagina placed in front of the prostitutes' tent. Others peek in, red-faced, proving that the "oldest profession in the world" is still a taboo. At any rate, the sex workers claim that they will continue the protest until they reach their goal.
From Monday, November 30, until Wednesday, December 2, the organization's representatives set up a tent in front of Congress to request a new law that would allow them to access the same benefits enjoyed by other independent workers. With lectures and workshops, which included the simulation of a self-managed brothel, they aimed to make the public aware of the "importance of a legal framework for female sex workers," Lencina told the PanAm Post.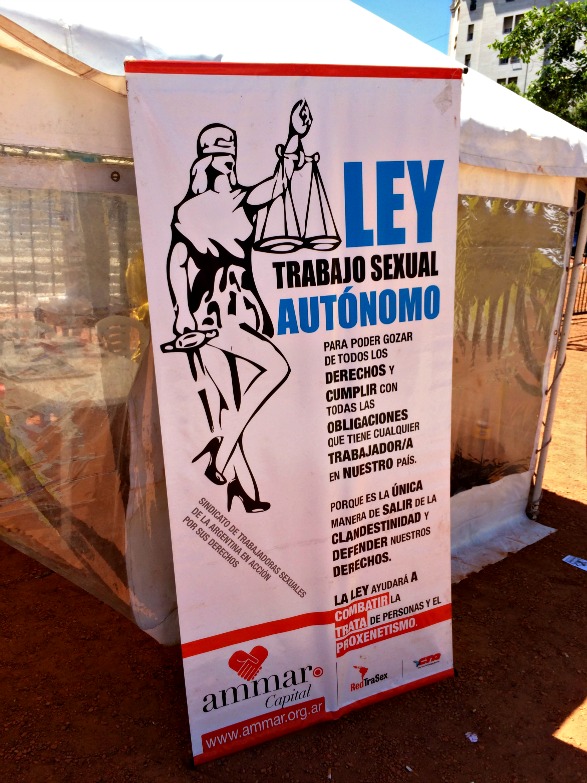 "We are adult women who consciously took the decision to be independent sex workers," says Lencina, who comes from the province of San Juan in Argentina's conservative interior. "When you offer a service, and ask for payment in return, you have a legitimate job."
Argentinean law does not ban prostitution. Each province, however, regulates it differently. In most cases, regulation is so rigorous that offering sexual services is virtually forbidden.
For example, in San Juan, the Code of Infractions and Misdemeanors penalizes those who publicly offer sex services in return for money with up to 20 days in prison. This situation leaves them in a difficult position. "My colleagues can spend up to 25 days in prison every month," Lencina said.
Ammar claims that the lack of legal clarity concerning prostitution has made sex-workers targets for the security forces. Between July 1996 and November 2015, Ammar registered 41 murders of its members. Only three have been solved so far.
Ammar National Secretary General Georgina Orellano says that the long list of victims reveals "the grave human-rights abuses against those who take part in this activity. The stigma surrounding prostitution and institutional violence are responsible for these deaths."
The Fine Line
More often than not, the legislation that is supposed to protect sex workers has the opposite effect.
Mariana Contreras, Ammar's secretary general in the Santiago del Estero province, admits that there is a "fine line" between prostitution and human trafficking. However, she adds that the trafficking of women is frequently cited as an excuse to fight against those who choose prostitution as a job.
According to the Ministry of Justice and Human Rights, authorities "rescued" over 9,000 women from prostitution between April 2008 and August 2015, of which 90 percent were adults. But Contreras says that the state manipulates these statistics. The prevailing government view, she explains, is to consider all sex workers victims of human trafficking.
[adrotate group="8″]
"To them, it doesn't matter whether or not I choose to work as a prostitute because I want to or like the work. They consider it human trafficking," Contreras says. She explains that the dominant "abolitionist" stance denies any possibility of a consenting relationship between the prostitute and her costumer. This view, she claims, has exposed sex workers to more abuses. "They say we can't decide what to do with our own bodies, and that we can't choose to make use of them for money."
In 2012, Argentinean President Cristina Kirchner signed an executive order banning the publication of classified ads offering sex services in newspapers. The measure, which was announced while the government was engaged in an open war with multimedia conglomerate Grupo Clarín, deprived the media giant of a lucrative business.
"Section 59 [where sex classified ads were published] generates copious profits to the newspapers," Kircnher said at the time. Sex workers, on the other hand, say that the measure has harmed them.
"It hasn't helped to fight human trafficking. The criminalization of sex workers increased. We've been pushed further towards illegality since they banned a useful way of advertising our service," Lencina says. "It's like burying your head in the sand."
No Consent
While Lencina affirms that her exchange with a costumer is voluntary, the abolitionist movement's supporters claim that prostitutes' consent has been "corrupted." Organizations like Fundación La Alameda argue that the notion that a group of women can rent an apartment and "create something similar to a cooperative" — as Lencina describes her work — is detached from reality.
"Self-employment [of prostitutes] does not exist in Argentina. Mafiosi subjugate the women since they're far more powerful," La Alameda's Lucas Schaerer says. The organization's stated goal is to combat child labor, human trafficking, sweatshops, and the trafficking of drugs and women. Its director, Gustavo Vera, is a congressman and close friend of Pope Francis.
"It's not a job," Schaerer says. "A brothel, a bawdy house, is managed by the mafia. And the managers are violent people." He recalls the case of former Supreme Court Justice Eugenio Zaffaroni, an abolitionist who nevertheless owned three apartments where prostitutes worked. The sex workers, on the other hand, say that the state is closing their "workplaces." They affirm, however, that pimping should be eradicated.
This group of women plans to keep fighting for a law that makes their plight visible and grants them the same conditions as other workers. They hope that a law can put an end to the persecution they endure.
"The only crime we are committing is to work to feed our families," Lencina concludes.
Related Posts
Opinion Polls Don't Guarantee an Opposition Win in Venezuela
By José Velásquez Major pollsters and mainstream analysts are forecasting a victory for the Venezuelan opposition in the upcoming legislative elections, which will be held on Sunday, December 6. The question, they argue, is not who will win, but what type of majority will the opposition have. Will it be a simple majority, or will opposition parties control three-fifths or two-thirds of Congress? As much as I'd like to rely on the numbers, I could spend hours explaining qualitative data that challenges Venezuelan polls. So, I'd invite you to think about three basic points: (1) Why have the United Nations, the Organization of American States, think thanks, prominent international leaders, and non-governmental organizations raised concerns about the Venezuelan government? They emphasize its control over other branches of power, irrespective of polls, and official statistics. Would these smart people raise their voice without a justification? (2) Even if we don't buy the authority argument, consider the following reason: President Nicolás Maduro has clearly stated they will win and remain in power, whatever it takes. (3) Do you believe this is a bluff? Then, bear in mind that even pollsters recognize Chavistas breach the Constitution in their favor. According to some pollsters, electoral irregularities represent around 3 percent of the total results. Given the 1.4 percent difference of the 2013 presidential elections, if their calculations are right, Maduro's victory was likely manufactured. In other words, Chavismo has the capacity to change the electoral outcome. My bottom line: why should I bet on free, fair, and transparent elections in Venezuela this time? In this particular case, quantitative data does not match qualitative data, in my view. If I had to make a choice, based on available sources, then, I would put more weight on the government's undemocratic behavior and facts, rather than abstract measures. Remember, this loss may cause a snowball effect that not only threatens Nicolás Maduro's political stability in 2016, but also Chavismo's immediate future in power. Nevertheless, I hope Chavismo will prove me wrong, because it would be positive for the country: the ruling elite would present its democratic side, and show it is willing to commit to a peaceful and electoral exit from the crisis. At this point, it is obvious I am not going to analyze the ideal scenario. If the opposition wins, I will, of course, go deep into the implications, including the snowball effect mentioned above. As the US Secretary of State John Kerry put it: the elections will be a "measure of the type of democracy that exists in the country," if any. José Velásquez is a Venezuelan geopolitical analyst at Venezuela Forecast. He also gives conferences on business, political, legal, economic, and security issues linked to Venezuela. Follow @VForecast.